---
NARWHAL® is a stabilized remotely controlled naval weapon station which combines the 20mm impressive firepower and advanced electro-optical day/night sensors for countering and neutralizing both conventional and evolving asymmetric threats. It is ideally suited for operation on all types of naval platforms for maritime surveillance, law enforcement and sea police interception missions and for self-defence of high tonnage surface vessels.
---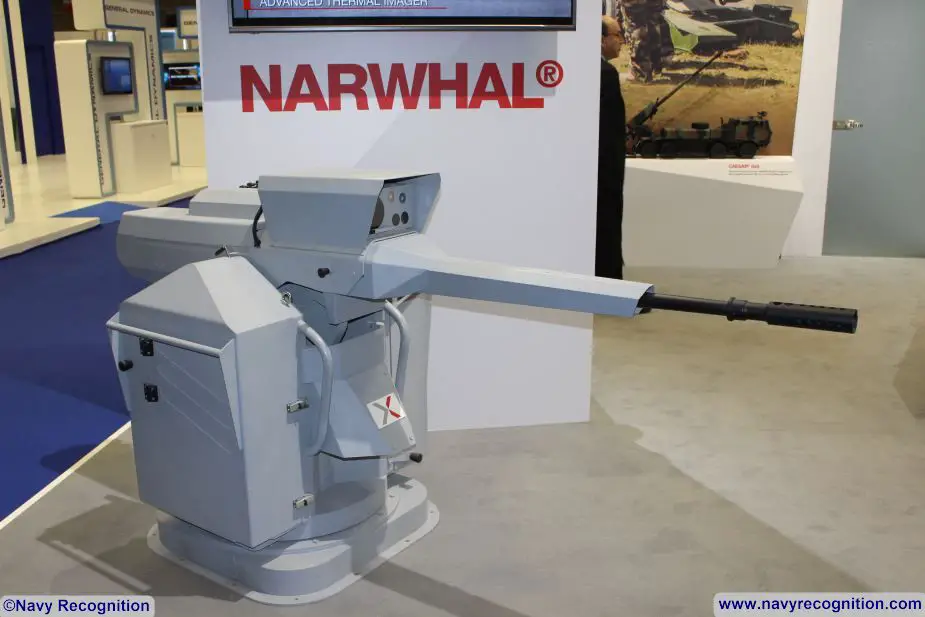 ---
NARWHAL® accommodates the reliable Nexter 20mm automatic cannon (available in two versions), in service with the French Navy, Army and Air Force and in 25 countries worldwide. Firing either 20x102mm NATO standard, M50 and PGU type ammunition or 20x139mm ammunition with high terminal effect, NARWHAL® provides superior firepower with significantly higher effective range than those of heavy machine guns and is definitely a real alternative to greater medium calibre versions. Equipped with a dual-field day color camera and thermal imager, combined with a moving target auto-tracker, NARWHAL® ensures high standards of performance, exceptional accuracy and availability with superior hit performance up to an effective range of 2000m, facilitating reduced ammunition usage, even in severe weather conditions and rough sea.
NARWHAL®, which combines outstanding effectiveness with ease of integration, can easily be interfaced with existing ship surveillance/combat management systems through software implementation. NARWHAL® will ensure the close-in self-defence of French and Egyptian FREMM frigates and French Mistral class Ships. NARWHAL® is also operated on patrol boats in a Middle Eastern country.
---