a
Naval Forces News - UK
The Royal Navy's New Strike Fighter Will Make its UK Debut at the Royal International Air Tattoo
The F-35B Lightning II stealth jet – destined to fly from the Queen Elizabeth-class aircraft carriers – is due to appear at the Royal International Air Tattoo at RAF Fairford in July. Royal Navy personnel are currently testing and evaluating the new jets as part of 17(R) Squadron at Edwards Air Force Base in California.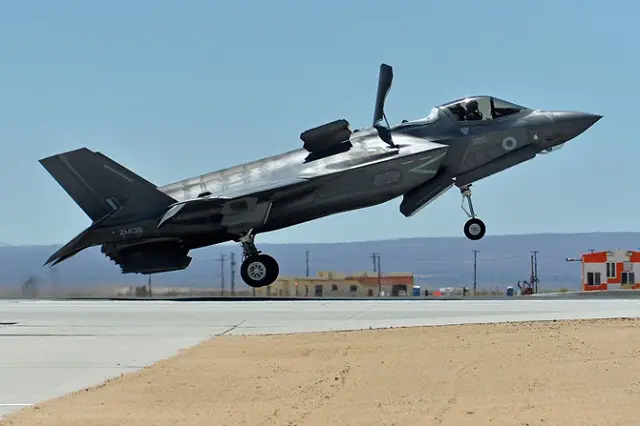 Lt Cdr Ian Tidball takes off for a sortie. Royal Navy Picture

The F-35B will be flown by the United States Marine Corps and, as well as a flypast, will demonstrate the vertical landing capability of the new jet. The UK government recently announced plans to speed up the purchase of 24 of the combat aircraft, a decision that will see two front-line squadrons – 809 NAS and 617 Squadron RAF – operating from the UK's two new aircraft carriers by 2023.

US Marine Corps Deputy Commander for Aviation, Lt Gen Davis said: "The US Marine Corps is looking forward to demonstrating the capabilities of the F-35B Lightning II in the skies over the United Kingdom this July."

The F-35B's appearance will be the latest in a long list of legendary military aircraft that have made their UK debut at RIAT.

These have included the F-14 Tomcat in 1976, the MiG-23 in 1991, the Typhoon in 1995, the V-22 Osprey in 2006 and the Japanese Maritime Self Defence Force Kawasaki P1 in 2015.

Air Tattoo Chief Executive Andy Armstrong said: "No doubt, the sight of F-35s in the sky will be quite common for future generations but this summer, all those who attend our air show will enjoy a first glimpse of that future.

"Over the years, the Air Tattoo has featured the UK and European debuts of some of the world's most iconic aircraft but few will have been as important to the UK's future defence capability as the F-35. I am sure many people will want to join us to witness this piece of aviation history being made."

The Air Tattoo is staged annually in support of the RAF Charitable Trust.