a
Naval Forces News - South Korea
ROK Navy Deploys Two KDX-III Aegis Destroyers to Monitor North Korea's Planned Satellite Launch

The Republic of Korea (ROK or South Korea) Navy announced it has deployed two of its three
7,600-ton KDX-III Aegis Destroyer
on a mission to detect and track North Korea's planned rocket launch. The communist nation has informed international maritime, aviation and telecommunication agencies that it will launch a rocket to put satellite 'Kwangmyongsong' into orbit, taking a preparatory step to launch a long-range missile.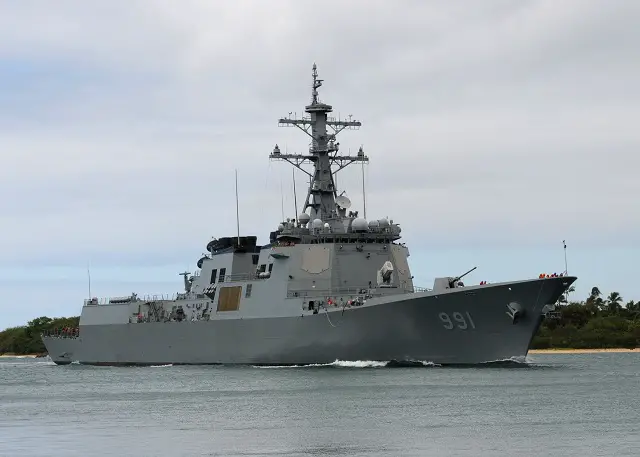 Republic Of Korea Ship Sejong the Great (DDG 991), head of KDX-III Aegis destroyer class
(U.S. Navy photo)

The satellite launch may be a pretext for testing a ballistic missile, which the North is developing in defiance of the United Nations Security Council.
"The military has increased the number of Aegis destroyers from one to two in preparation against the possibility of North Korea's long-range missile,"
a South Korea military official said. Now, one is standing by in the Yellow Sea and the other is waiting in the waters south of Jeju Island, the official said.
KDX-III are fitted with the American Aegis Combat System which includes the Lockheed Martin AN/SPY-1D(V) multi-function radar system that can detect and track ballistic missiles. It took 54 seconds for the
Sejong the Great
Aegis destroyer to catch North Korea's long-range missile launched in December 2012.
Partially designed by the South Korean Ministry of National Defense, built by Hyundai Heavy Industries and Daewoo Shipbuilding & Marine Engineering, the Sejong the Great class Destroyers are the largest surface combatants in the Republic of Korea Navy. The 3 vessels of the class were built as part of the KDX-III project to strengthen ROK Navy defense against North Korea and other emerging threats as well as provide the ROK Navy with true blue water, ocean going capabilities.
Link to KDX-III Aegis Destroyer technical datasheet