a
Naval Forces News - Vietnam
Last Two Project 12418 Tarantul-class Corvettes for Vietnam Navy to be Launched in Spring 2016
Two Project 12418 (NATO reporting name: Tarantul V-class) guided missile craft being license-produced in Vietnam for its navy will be launched in spring 2016, a representative of Russian shipyard Vympel told journalists on Thursday.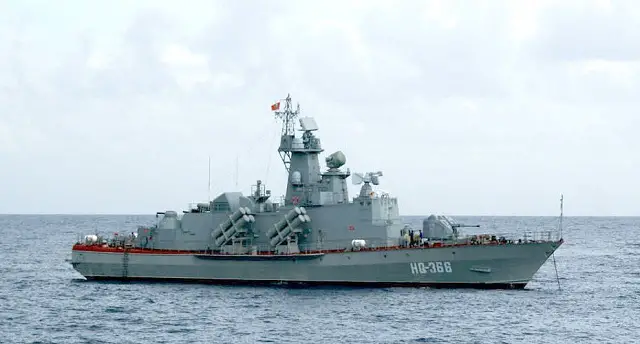 Vietnames People's Navy Project 1241.8 Tarantul V missile corvette
"The last two Project 12418 guided missile boats will be launched in the spring. The fifth and sixth ships will cap the batch, and, thus, the contact will be fulfilled," the source said. He added that talks were under way on firming up an option for the licence production of four boats more. As Vympel's representative had said previously, Vietnam agrees to order the four ships on condition of certain modifications to their onboard equipment.

Vympel in the city of Rybinsk has been making the boats' knockdown kits and shipping them to Vietnam for assembly and has been exercising technical supervision of the process in conjunction with the boats' designer, the Almaz Central Marine Design Bureau, a subsidiary of the United Shipbuilding Corporation.

Under the contract of 2003, Vietnam has taken delivery of two Vympel-built missile craft and is to licence-produce 10 more - six under the current contract and four more as firmed-up options. The Vympel-made boats were delivered in 2007 and 2008. The first licence-produced Project 12418 missile boat was laid down by the Ba Son Shipyard in Vietnam in 2010.

Two Vietnam-built ships carrying the Uran-E (SS-N-25 Switchblade) missile system - HQ-377 and HQ-378 - were commissioned by the Vietnamese Navy on July 20, 2014 and two more - HQ-379 and HQ-380 - on September 25, 2015.

The Project 12418 missile boat is designed to fight the enemy's surface ships, boats and transport craft both independently and within a formation. The boat has a displacement of 510 tons, a length of 56.9 meters, a maximum speed of 40 knots and sea endurance of 2,300 miles. The Project 12418 missile boat is armed with the AK-176M 76mm artillery gun, the Uran missile system comprising 16 missiles in four launch tubes, the AK-630M 30mm antiaircraft artillery system and 12 missiles for the Igla portable antiaircraft missile system.

© Copyright 2015 TASS. All rights reserved. This material may not be published, broadcast, rewritten or redistributed.