a
Naval Forces News - Russia
Zelenodolsk Shipyard Laid Down the Fourth Project 22160 Patrol Vessel for Russian Navy
The fourth Project 22160 patrol ship 'Sergey Kotov' was laid down at Zelenodolsk Shipyard named after Maxim Gorky on May 8, according to Russian Navy`s official spokeperson, Igor Dygalo.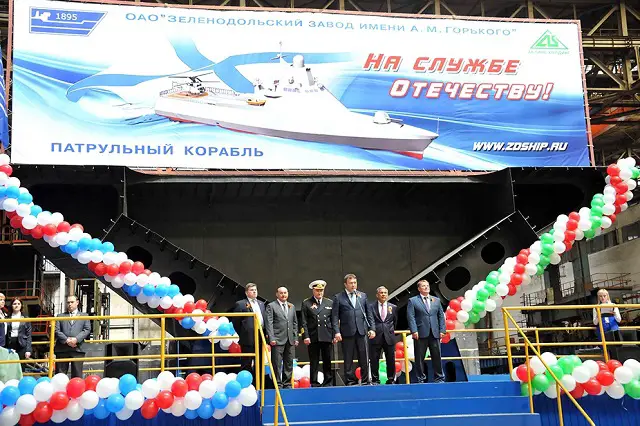 Keel laying ceremony for the Russian Navy patrol boat Project 22160 "Sergei Kotov" at OAO "Zelenodolsk Plant named after AM Gorky ". Zelenodolsk on 08/05/2016. Picture: www.zdship.ru

"The ship honors Hero of the Soviet Union, real admiral Sergey Kotov, who took part in the defense of Odessa and Sebastopol. During the Second World War, he commanded a torpedo boats division of the Black Sea fleet," Dygalo said.

The representatives of the Tatarstan government took part in the related ceremony, as well as members of the Navy`s major command.

Project 22160 patrol ship model at Euronaval 2014 featuring some Kalibr-NK cruise missiles
The Project 22160 type ship 'Vasily Bikov" was laid down in February 2014, the second ship, namely, 'Dmitry Rogachyov' - in Summer 2014. In February 2016, Zelenodolsk Shipyard laid down the third Project 22160 patrol ship named after Pavel Derzhavin.

Project 22160 patrol ship was designed by the Severnoye (Northern) design bureau (a subsidiary of the United Shipbuilding Corporation). It has a displacement of 1,300 t, a cruise/maximum speed of 16/30 knots and an endurance of 6,000 miles (or 60 days). The ship is equipped with huge armament set, which comprises one 57mm A-220M naval gun, one 3M47 Gibka unmanned turret (armed with eight 9K38 Igla (NATO reporting name: SA-18 Grouse) man-portable air defense systems (MANPADS), two 14.5mm KPVT turrets, one Shtil-1 surface-to-air missile (SAM) system with two launchers, one integrated Kalibr-NK (SS-N-27 Sizzler) subsonic cruise missile system (can be replaced by P-800 Onyx (SS-N-26 Strobile) supersonic cruise missiles), two DP-65 underwater grenade launchers and one Ka-27PL/Ka-27PS (Helix-B) helicopter.

© Copyright 2016 TASS. All rights reserved. This material may not be published, broadcast, rewritten or redistributed.