a
Naval Forces News - Russia
Russian Navy First Project 11356M Grigorovich class Frigate heads for Permanent Base in Crimea
The Project 11356 frigate Admiral Grigorovich will leave the naval base in Baltiysk in west Russia to head for its home station in Sevastopol in Crimea, Defense Ministry spokesman for the Navy Igor Dygalo said on Friday.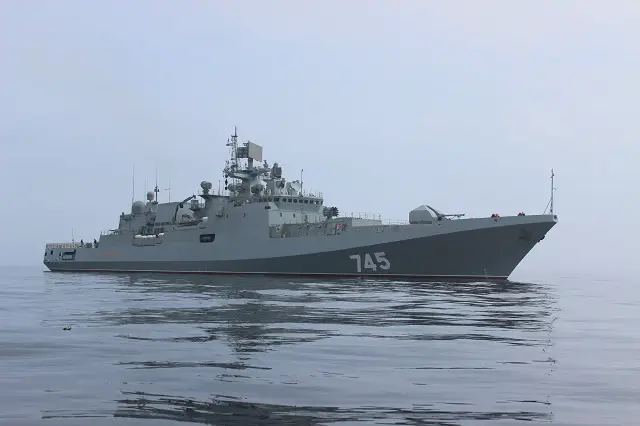 The Admiral Grigorovich class is the latest class of frigates ordered by the Russian Navy for the Black Sea Fleet. Picture: Yantar Shipyard

On Thursday, the Russian Navy's commission headed by Navy Deputy Commander-in-Chief Vice-Admiral Alexander Fedotenkov checked the ship's readiness for the inter-fleet passage. "On order of Russian Navy Commander-in-Chief Admiral Vladimir Korolyov, we checked the training level of the ship's crew and the readiness of its equipment for the inter-fleet passage," Fedotenkov said. "The frigate is ready to perform the inter-fleet passage to its Black Sea Fleet permanent base," he added.

The frigate Admiral Grigorovich is planned to arrive at the Black Sea Fleet's main naval base in Sevastopol in late May.

The frigate Admiral Grigorovich is the first out of six ships designed for Russia's Black Sea Fleet. It was laid down in late 2010 and put afloat in the spring of 2014.

The frigates in the class displace 4,000 tons, sail at 30 knots, have an endurance of 30 days and carry the Kalibr missile system with 3M-14, 3M-54 and other precision-guided missiles (the bow-mounted 3S-14 vertical launch system houses eight missiles), Uragan-1 (SA-N-7 Gadfly) multiple-target engagement-capable air defense missile system (3x12 VLS's, 24 missiles) and Kortik (SA-N-11 Grison) air defense missile/gun system (two combat modules, 2x4 SAM launchers, 32 missiles and 2x6 30-mm antiaircraft guns.

© Copyright 2016 TASS. All rights reserved. This material may not be published, broadcast, rewritten or redistributed.