a
Naval Forces News - Australia

Royal Australian Navy Nulka Missile Decoy System Set for an Upgrade
The Turnbull Government will strengthen the Australian Defence Force's anti-ship missile defence capability with a $207 million boost to the Nulka program. Nulka is a rocket propelled active missile decoy designed to entice hostile radio frequency guided anti-ship missiles away from a ship.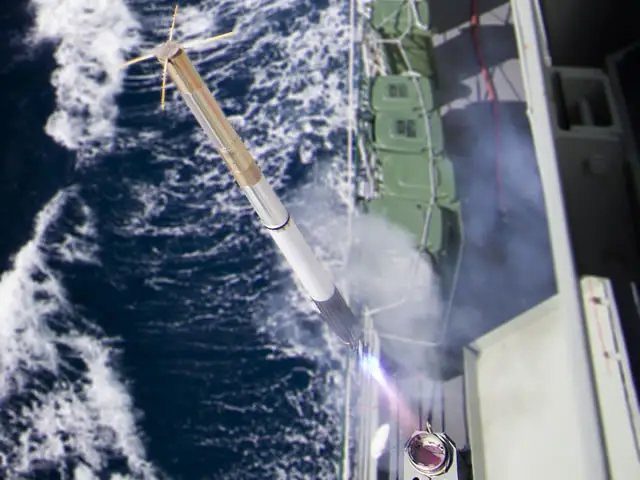 HMAS Darwin conducts a Nulka Active Missile Decoy firing in the Eastern Australian Exercise Area, as part of pre-deployment checks during the ships Mission Readiness Evaluation.
Nulka has been protecting Australia's major surface fleet units since its development and this upgrade will ensure the system remains at the cutting edge into the future.

Nulka will continue to be upgraded over the coming decades to keep pace with anti-ship missile technologies and ensure our sailors have the best available protection at sea.

The Nulka program is one of our nation's largest and most successful defence exports generating approximately $50 million a year in export revenue. The upgrading of the launcher is expected to generate further export opportunities for our Australian defence industry.

Nulka was devised by Defence scientists and developed in Australia by BAE Systems and is a great success story for Defence and Australian Industry working together.

This significant investment will continue Australia's investment in the program and maintain 72 jobs annually across the country.

The upgraded Nulka system will be installed in all Royal Australian Navy frigates and Hobart class destroyers and introduced for the first time on the Canberra Class Landing Helicopter Docks.