a
Naval Industry News - Denmark, South Korea, Philippines
Terma C-Guard decoy launchers selected for future HHI-built frigates of the Philippine Navy
In October 2016, Hyundai Heavy Industries (HHI), the world's biggest shipyard, announced the signature of a contract to build two 2,600 tons frigates for the Philippine Navy. The 107 meters vessels will be capable of conducting Anti-Air/Surface/Submarine Warfare as well as Electronic Warfare missions.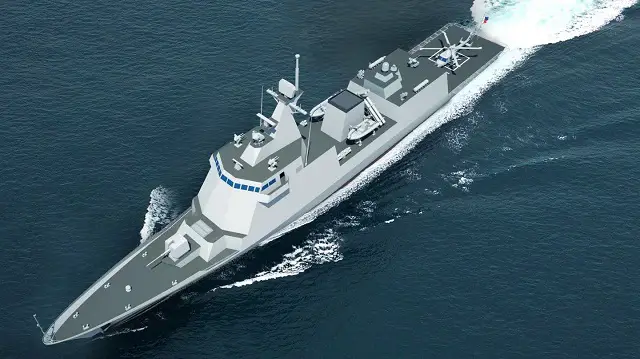 A computer image of the Hyundai Heavy Industries build frigates for the Philippines (Image courtesy HHI)
In order to protect these strategic assets, the Philippine Navy has mandated HHI to select the most adapted self-protection solution, combining proven technology, cost-effectiveness, small footprint, and high operational flexibility.

C-Guard has been thoroughly evaluated and finally selected as the solution best responding to the Philippine Navy needs and requirements.

More than 200 C-Guard systems are currently in operation worldwide, providing effective protection against any type of surface and underwater threat (RF/IR/Dual Seeker missiles and torpedoes)

The C-Guard system using SeaGnat or 130 mm decoy rounds will provide protection against any type of threat, including:

Radio Frequency (RF) threats – the C-Guard algorithm offers the flexibility of deploying chaff as sub-munitions or as a large chaff bursts.
InfraRed (IR) and Imaging IR threats – An increasing threat especially in the littoral zone. The multi-azimuth tubes of the C-Guard will allow the algorithm to calculate precise firing of IR to provide 360-degree coverage.
The C-Guard algorithm can effectively calculate the heat dissemination of flare decoys and in combination with chaff decoys obscure the IR image of a naval vessel.
Dual Seeker threats – the algorithm supports dual mode rounds containing both flare and chaff payloads – an advanced coverage technique towards dual seeker threats.
Torpedo threats – unparalleled, C-Guard supports the firing of the latest acoustic anti-torpedo decoys, including state-of-the-art Canto by DCNS.