a
Naval Aviation News - USA

Rockwell Collins completes ADS-B Out milestone on three NAVAIR aircraft platforms
Rockwell Collins recently completed the implementation of ADS-B Out software on C-2A, E2-C and P-3C aircraft for the Naval Air Systems Command (NAVAIR). The certified software brings these aircraft into compliance with the upcoming ADS-B Out mandates required by the end of 2019.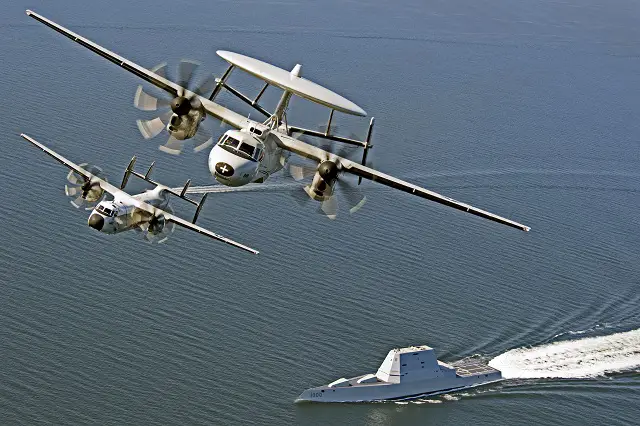 CHESAPEAKE BAY, Md. -- An E-2C Hawkeye and a C-2A Greyhound assigned to Air Test and Evaluation Squadron (VX) 20 fly over USS Zumwalt (DDG 1000) as the ship travels to its new home port of San Diego, California. Zumwalt was commissioned in Baltimore, Maryland, Oct. 15 and is the first in a three-ship class of the Navy's newest, most technologically advanced multi-mission guided-missile destroyers. (U.S. Navy photo)
"The mandates are quickly approaching and we're enabling the P-3 community to achieve compliance," said Dave Schreck, vice president and general manager of Airborne Solutions for Rockwell Collins. "We have a long history of success with each of these platforms, lowering the risk associated with this type of upgrade."

The initial software underwent flight testing and was confirmed production-ready without any adjustments required. This marks an industry first for the implementation of ADS-B Out software on three different platforms within NAVAIR. This will also pave the way for other platform certifications with similar transponder types such as the C-130 and C-5.