a
Naval Industry News - UK, Pakistan
SharpEye Radar for Pakistan Navy Submarine Agosta 90B Upgrade
Following the announcement in February 2017 that Kelvin Hughes will be supplying the SharpEye Doppler submarine radar system to the mid-life upgrade program for the Pakistan Navy's Agosta 90B-class (also known as the Khalid class diesel electric attack submarine), the order for the next submarine in this program has been placed.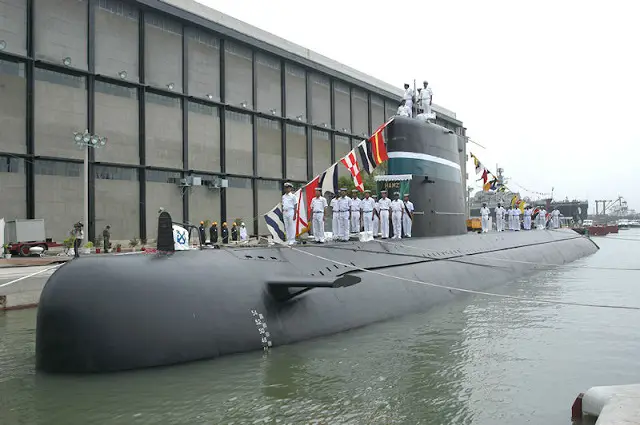 Pakistan Navy's Agosta 90B SSK
Working with Turkish defence contractor STM, the main contractor for the refurbishment programme, Kelvin Hughes will supply the SharpEye™ system to the first submarine in 2018 and the second in 2019.

The upgrades are being performed at the Karachi Pakistan Naval Shipyard however specific details concerning each submarine in the program have not been disclosed.

The SharpEye™ I-Band (X-Band) radar transceiver for submarines is based on a downmast transceiver housed in an enclosure located within the pressure hull and provides submarines both in-service as a retrofit and new classes a high performance solid state radar with similar capabilities to SharpEye™ radars installed on naval surface ships.

This downmast submarine radar solution makes use of the existing bulkhead infrastructure in the pressure hull, removing the need to replace the antenna mast system by utilising the existing external antenna, rotational drive and waveguide connections. Kelvin Hughes also manufactures and supplies a pressure resistant 'AZL' submarine antenna.

Key benefits of the SharpEye™ radar solution for the Agosta 90B-class mid-life upgrade program is the extremely high reliability and low through life costs including:

No magnetron - minimal routine maintenance requirements
No fault-finding training required
Line replaceable unit - does not require radar trained technician to replace
Low Mean Time To Repair (MTTR)

Barry Jones, Regional Sales Manager for Kelvin Hughes, commented:
"We have a long standing relationship with the Pakistan Navy and STM and I am very pleased to be working with STM to supply the state-of-the-art SharpEye™ radar system to the Khalid class submarines".