---
The Dagdiesel enterprise in Dagestan will supply to the Russian Navy 73 UET-1 torpedoes by 2023. A corresponding contract was signed by head of the procurement department of the Defense Ministry Rear Admiral Andrey Vernigora and Dagdiesel CEO Raul Ilyasov, the Defense Ministry said.
---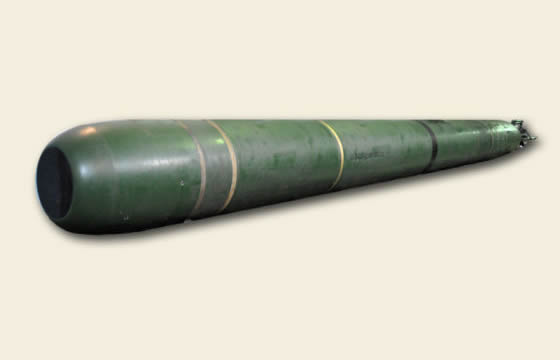 533-mm electric torpedo UET-1E (OKH Ichthyosaur / ОКР "Ихтиозавр") by Dagdizel Plant. Image by Maxim Klimov via bmpd.livejournal.com
---
"At present 73 pieces worth 7.2 bln rubles were contracted up to 2023. The first torpedoes are to be supplied next year. Upfront payment will be made this year and the enterprise will launch serial production," head of the main armaments department of the Russian armed forces Lieutenant-General Anatoly Gulyaev said after the signing ceremony.

"It is a long-term contract. So far the term is five years. We hope the enterprise will complete the assembly of production equipment this year. After it achieves full production capacity the Defense Ministry will consider expanding the procurement of the products," he added.

UET-1 is a new universal electric torpedo with enhanced combat and technical characteristics. It is to replace the outdated homing USET-80 electric torpedo.
533mm UET-1 has a bigger range than USET-80, a higher speed and better detection of underwater targets. It can detect the wake of a warship and smoothly regulate the speed.
---
© Copyright 2018 TASS. All rights reserved. This material may not be published, broadcast, rewritten or redistributed.
---