---
A P-8A Poseidon from the "Mad Foxes" of Patrol Squadron (VP) 5 supported maritime operations in U.S. 5th Fleet under Commander, Task Force (CTF) 57, Feb. 24 - March 3. The first time a P-8A had deployed to U.S. 5th Fleet since 2016, the aircraft conducted missions spanning the area of operation in the Arabian Gulf, Strait of Hormuz, Gulf of Oman, Red Sea and Arabian Sea.
---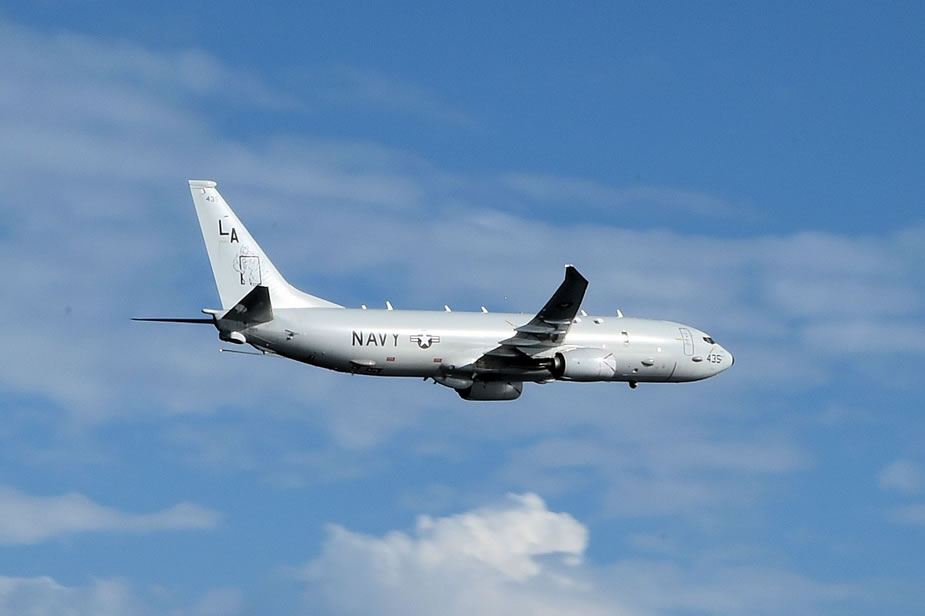 File picture: A P-8A Poseidon from Patrol Squadron Five (VP-5) flies by the amphibious assault ship USS Peleliu (LHA 5) during a routine exercise in the Philippine Sea. (U.S. Navy photo by Mass Communication Specialist 1st Class Joshua Hammond/Released)

---
"By having an asset deployed to Italy operate here in Bahrain, and to do so extremely well, we demonstrate the inherent maneuverability of naval air forces and the ready, relevant posture of the maritime patrol and reconnaissance community," remarked Capt. Chris Flaherty, commodore of CTF 57. "Though we planned this cross-combatant command interoperability as a proof of concept, it highlights how we can flow forces between theaters in a matter of hours to respond to crises. We will continue to exercise these capabilities, in conjunction with our counterparts at CTF 67 in Italy and CTF 72 in Japan, to ensure we provide fleet commanders with cross-component options to cross-component threats."
The aircraft participated in two long-range intelligence, surveillance and reconnaissance (ISR) missions, supported U.S. Navy ships as they transited through the Strait of Hormuz, and provided an orientation flight for members of the Royal Saudi Naval Forces (RSNF) while conducting a mission over the Red Sea.
While providing the orientation flight for members of the RSNF, the aircrew demonstrated the aircraft's roles in ISR, as well as maritime domain awareness. By observing the mission crew workstations, the participants were able to see firsthand how the combat crews operate as a team to execute the wide-ranging mission set of the P-8A.
"It was a unique experience for our crew to work with the Saudi Arabian military," said VP 5 pilot Lt. Steve Mehr. "Demonstrating the P-8A's combat systems in an operational environment with our partners was an incredible experience. The dynamic 5th Fleet is the perfect place to demonstrate our versatility."
The P-8A was also able to exercise its full command, control, communications and intelligence (C4I) suite, sharing their tactical picture in near real-time with CTF 50's Theodore Roosevelt Carrier Strike Group via exchange networks like Links 11 and 16.
The P-8A Poseidon, the Navy's newest maritime, patrol and reconnaissance aircraft, is a multi-mission capable replacement aircraft for the legacy P-3C Orion. It is a militarized version of the Boeing 737 and utilized for a wide-array of missions.
U.S. 5th Fleet area of operations encompasses about 2.5 million square miles of water area and includes the Arabian Gulf, Gulf of Oman, Red Sea and parts of the Indian Ocean. The expanse is comprised of 20 countries and includes three critical choke points at the Strait of Hormuz, the Suez Canal and the Strait of Bab al Mandeb at the southern tip of Yemen.
---