---
Since 2007, SOCARENAM and MAURIC are involved in the design and construction of vessels ordered by the French Customs: 2 units of 44 m Offshore Patrol Vessel (Jacques Oudart Fourmentin and Kermorvan – MAURIC OPV 440), 1 unit of 53,5 m Offshore Patrol Vessel (Jean-François Deniau – MAURIC OPV 535) 2 units of 32 m VSG (Vedettes de Surveillance Générale – MAURIC Patrol Boat 320), and 4 units of 28 m VGC (Vedettes Garde-Côte - MAURIC Patrol Boat 280). Initially, the contract was for two units + 2 units in option, but with the successful delivery of the two first units, the French Customs chose to trust us again.
---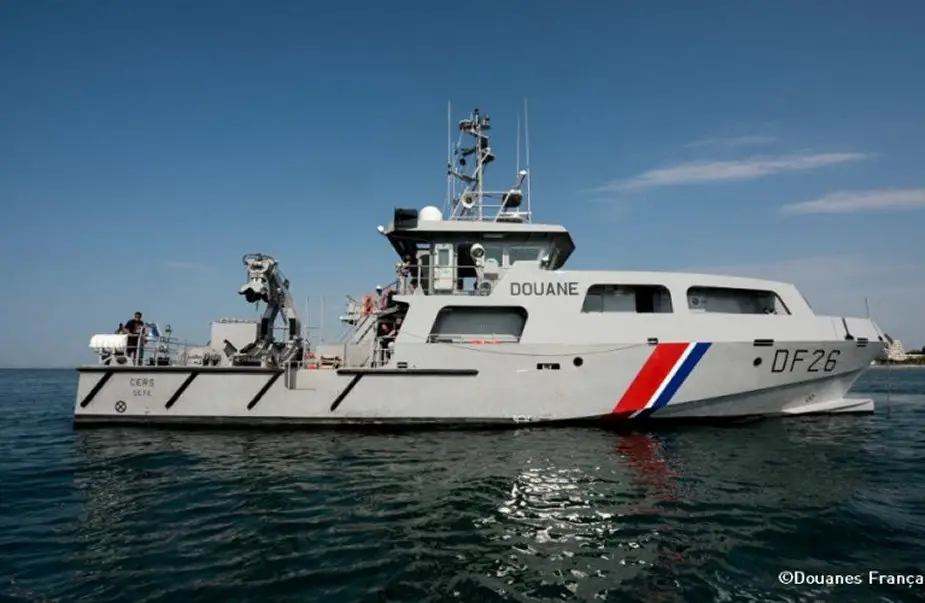 The Patrol Boat VGC 28 (Picture Source: Mauric)
---
In 2016, the sister ships Seudre and Levante, Patrol Boat 320, have been delivered respectively in Royan and Nice. Capable of maintaining their top speed (22 knots) even by high sea states, and to launch and recover a 6.5 m high-speed RHIB from their aft deck, these vessels are highly suitable to manage missions of detection, identification, control and interception, in the Atlantic Ocean and the Mediterranean Sea.
Within the scope of the renewal of their fleet, the French customs launched another tender for a smaller version of these new Patrol boats. SOCARENAM and MAURIC won this new public tender with a tailor-made design based on their extensive experience of semi-displacement hull form, and from 2017 to 2018 the 3 first units of coast guards vessels of 28 meters long were built and delivered.
These light aluminium vessels of exactly 28.1 m LOA, 7 m width, 100 t of displacement, equipped with 2 diesel engines of 1190kW each, are ideal patrol vessels for surveillance missions in coastal areas, for the fight against illegal trafficking and also assistance operations. Patrol Boat 280, with her asymmetric superstructure, can accommodate up to 12 persons onboard in optimal comfort thanks to her sea-proven hull form with a hydrodynamically optimized bow allowing to maintain a top speed of 22 knots even in strong waves. The cruising speed is 18 knots for a maximum range of 700 miles.
These vessels are equipped with a machine gun, gyro-stabilized electro-optical system, and can deploy a 6.5 m fast RHIB thanks to the anti-pendulum davit on the aft deck. That's why Patrol Boat 280 is fully suitable for surveillance, identification and interception missions.
---