---
The frigate "Alsace" was launched on April 18 off the Naval Group's shipyard of Lorient. It is the ninth of a series of 10 vessels of the FREMM program – Multi-Mission European Frigates – commissioned to Naval Group as part of the international Italian-French program, coordinated by OCCAR (the Organisation for Joint Armament Cooperation).
---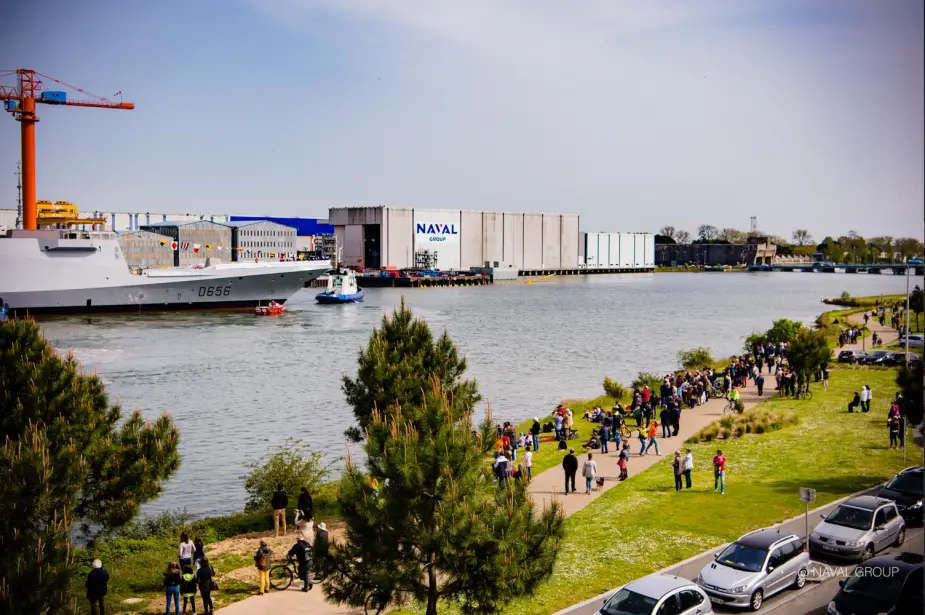 The FREMM DA "Alsace" being launched from Naval Group's shipyard of Lorient (Picture Source: Naval Group)
---
This ninth frigate is destined to be incorporated into the French Navy and has been designed to meet the requirements of the other FREMM vessels, but with upgrades regarding the aerial defence capabilities. Therefore, this FREMM is called a FREMM DA (DA stating for "Défense Aérienne", which means Aerial Defense in English).
Another FREMM DA is expected to be built, the FREMM DA "Lorraine". The FREMM "Alsace" is scheduled to be delivered to the French Navy by early 2021, while the FREMM "Lorraine" is expected to be delivered to the French Navy by mid-2022.
As for the other FREMM vessels, both FREMM DA will be capable of leading anti-submarine warfare (ASW) operations, but will also be able to ensure anti-aerial defense of major vessels (such as the aircraft carrier FNS Charles de Gaulle, or the amphibious assault ships ("Porte-Hélicoptère Amphibie" ou PHA in French).
The FREMM DA vessels will be equipped with state-of-the-art technologies, such as the multifunction Herakles radar, or the Aster 15 and 30 missiles. It will also be armed with Exocet MM 40 missiles or even MU 90 torpedoes. The length of such vessels will be of 142m, while their width will be of 20m, with a displacement of 6000 tonnes. The vessels will be capable of reaching speeds up to 27 knots.
Seven FREMM have already been delivered to the French Navy between 2012 and 2018 including the "Aquitaine" in 2012, the "Provence" in 2015, the "Languedoc" in 2016, the "Auvergne" in 2017, and the "Bretagne" in 2018.
---