---
The newest minesweeper Ivan Antonov of project 12700 (Aleksandrit) has finished state trials. The ship's crew is getting ready for a ceremony of hoisting the St. Andrew's flag of the Russian Navy scheduled for January 26. All the acceptance documents on the completion of state trials were signed earlier, the Russian Defense Ministry said.
---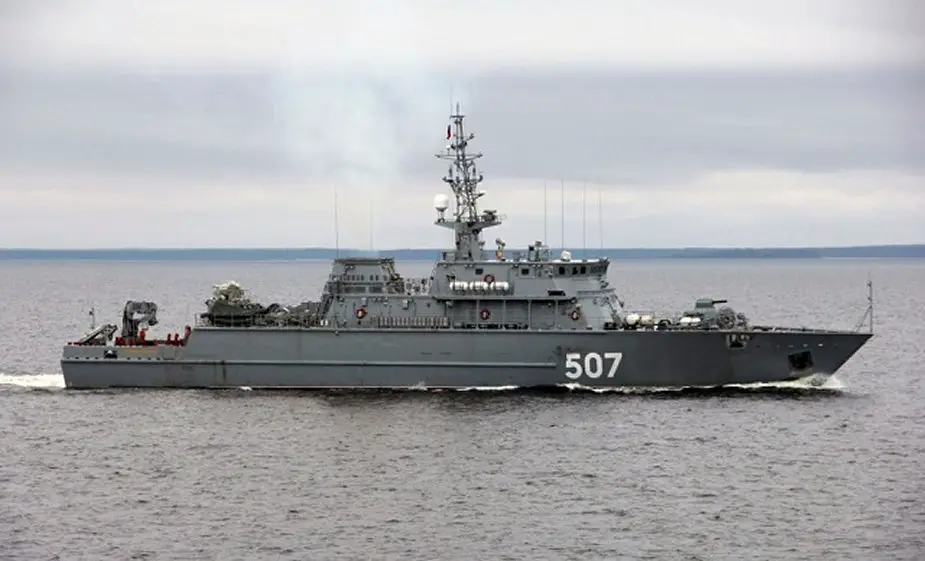 The first Project 12700 Alexandrit-class MCM vessel (Picture Source : Sredne-Nevsky Shipyard)
---
"The Ivan Antonov minesweeper was built at the Sredne-Nevsky shipbuilding plant in St. Petersburg. It will join the mine-sweeping forces of the Russian Navy under a plan of retooling them with new equipment. The serial construction of dozens of project 12700 minesweepers will be launched in the interest of the Russian Navy in a short-term perspective," the ministry's press service said.
The experience of operation of the lead project 12700 ship - the Alexander Obukhov - has shown that ships of this project can be used both as standard and ocean minesweepers.
Project 12700 minesweepers have the biggest fiberglass hull in the world. It is highly durable against steel hulls and ensures better survivability of the ship in mine sweeping. The service life of monolithic fiberglass hull is longer than low-magnetic steel and the hull weight is considerably smaller. The displacement of project 12700 minesweepers is close to 900 tons, the length is over 60 meters and the width is 10 meters. The speed is 16.5 knots and the crew comprises 44 men. It can use various flails, remotely guided and autonomous unmanned underwater craft to sweep mines. Project 12700 minesweepers have comfortable conditions for the crew.
---
© Copyright 2019 TASS. All rights reserved. This material may not be published, broadcast, rewritten or redistributed.
---