---
Global PCCI (a joint venture) has been awarded an indefinite-delivery/indefinite-quantity contract, worth $US 250 million, from the US DoD for the Emergency Ship Salvage Material (ESSM) system.
---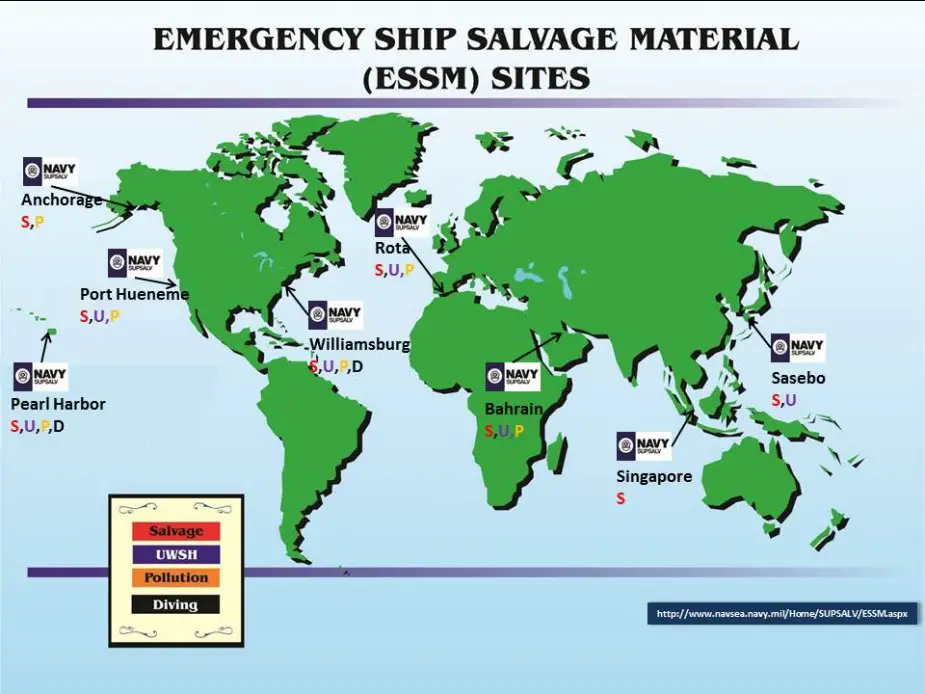 ESSM sites (Picture source : Naval Sea Systems Command)
---
The primary purpose of this contract is to manage the facilities with emergency response equipment stockpiles, pre-positioned to support and augment the Navy fleet capabilities in the areas of salvage, diving, pollution response and underwater ship husbandry.
The ESSM system is used to provide the fleet with salvage and pollution abatement equipment to augment their organic equipment or specialized equipment not normally carried in their allowance. Examples of specialized ESSM equipment include hydraulic submersible pumping systems, welders, electric power generators, fly away deep ocean salvage systems, MARISAT communications vans, lift bags and portable command vans. Pollution equipment includes open ocean boom and skimming systems, specialized inland and arctic response systems, floating storage and pollution offload systems.
The ESSM system is also used to effect depot level maintenance on fleet salvage and pollution equipment. ESSM mechanics not only repair the equipment, they train crew members from the fleet in proper maintenance and repair procedures. This has proven to be very beneficial to fleet salvors and pollution responders. Full logistic support is available with command vans, rigging vans, and berthing vans.
This contract includes five ordering periods. If all of these periods are executed, the maximum value of the contract would reach $US 250 million. Work is expected to be completed by January 2024.
---