---
New big amphibious assault ships of project 11711 will be able to transport speedboats of projects 03160 and 02510. Besides, they will carry helicopters to support Marines. The new warships are likely to participate in landing and humanitarian operations in distant regions, the Izvestia daily writes.
---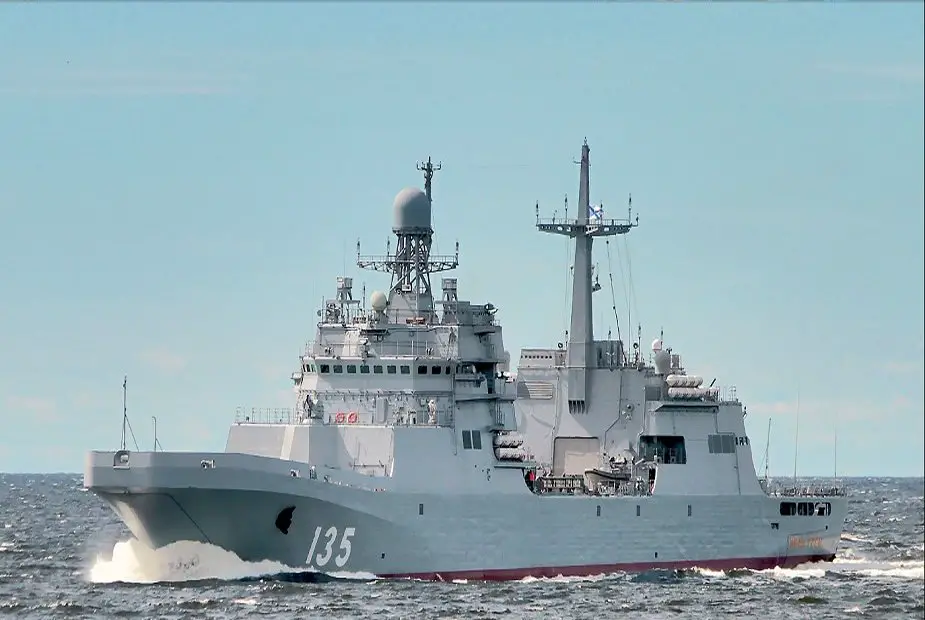 Big landing warship of Project 11711 Ivan Gren during trials in the Baltic Sea (Picture Source: Alex Akentyev)
---
Defense Ministry sources told the newspaper the construction of new landing ships will focus on the possibility to engage speedboats and support helicopters. The Vladimir Andreev and the Vasily Trushin were laid in April in Kaliningrad for construction by the upgraded project 11711. They are likely to become operational no later than 2025.
Commandos with speedboats have to be an obligatory part of the naval landing force, former Navy Chief-of-Staff Admiral Valentin Selivanov believes. "The boats will help commandos quickly and covertly approach the coast to ensure successful landing of the main force. They will destroy the most important fire positions," he said.
Project 11711 warships land the troops either directly to the coast or by pontoons which also carry combat hardware. Modern technologies were used in the construction, including the stealth effect provided by new materials. Specific attention was paid to the conditions for the crew and the landing force. The new warship can sail 6.5 thousand km at a speed of 18 knots and the cruising capacity is 30 days.
Hardware will be loaded either by the ramp or a special crane with a 16-ton lifting capacity. The warship can carry 13 main battle tanks or 36 armoured personnel carriers or infantry fighting vehicles or 300-men strong landing force. It has a hangar for two Ka-29 or one Ka-52K helicopter.
Raptor-class boats of project 03160 and BK-16 boats of project 02510 are most suitable for landing ships. They have modern communication, navigation, detection and tracking systems.
BK-16 develops a speed of 40 knots. It is 15 meters long and 3.8 meters wide and has a range of 400 miles. The boat can carry 19 commandos, marines or combat swimmers in full gear. The boat can be loaded on a landing ship by a crane. BK-16 has a new remotely controlled and hydro-stabilized combat module. There are other four types of arms: 12.7mm and 7.62mm machineguns, 30mm and 40mm grenade launchers. The boats can launch light drones.
The Vladimir Andreev and the Vasily Trushin laid by Yantar Shipyard in Kaliningrad are likely to be equipped with dicking chambers for a rapid floating of boats, expert Dmitry Boltenkov believes.
"Anyway, they look like universal landing docks. There are several options to float the boats. The easiest one is by a crane, but it is a dangerous process in a rough sea. There are devices that can float the boats through the stern ramp. But the perfect way is through a docking chamber. The technology produces a truly modern warship," he said.
The US Navy operates Special Operation Craft (SOC) Mark V. It is floated from a docking chamber through a special stern ramp. It delivers commandos to the place of the operation and intercepts adversary ships, the Izvestia said.
---
© Copyright 2019 TASS. All rights reserved. This material may not be published, broadcast, rewritten or redistributed.
---