---
The UK will lead a multinational training to enhance Ukrainian Navy against threats from the East, boosting their ability to combat threats in the Black Sea. Visiting Ukrainian partners in Kyiv, Defence Secretary Ben Wallace confirmed that information and announced that the UK will send Royal Navy ships to visit the region later in the Autumn.
Follow Navy Recognition on Google News at this link
---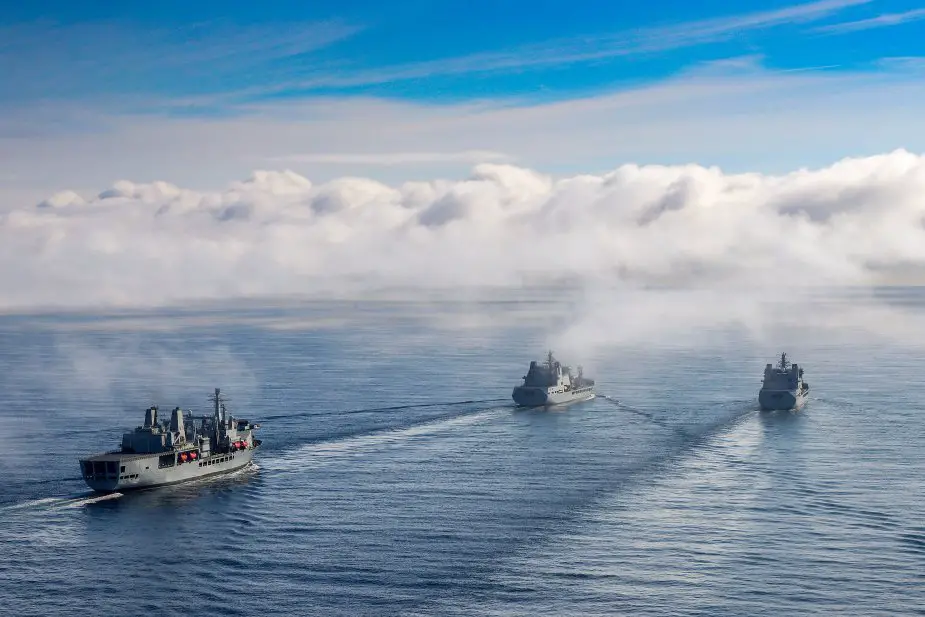 Royal fleet auxiliary ships link-up during sea trials. (Picture source: Royal Navy/MoD)
---
Mr Wallace discussed issues of regional security and areas of mutual interest and cooperation in meetings with defence minister Andriy Taran and Ukrainian commander-in-chief Colonel-General Ruslan Khomchak.
In support of that effort, the Ministry of Defence is increasing its support to the Armed Forces of Ukraine (AFU) by coordinating an international maritime training package that will share the expert knowledge of the Royal Navy and partners from next month.
Courses will be delivered by the Royal Navy and naval personnel from Sweden, Canada and Denmark in areas such as navigation, operational planning, military diving, sea surveillance, fire-fighting and damage control. More nations are expected to join in the near future.
---
Defence Secretary Ben Wallace arrives in Ukraine. (Picture source: Royal Navy/MoD)
---
For the record, Ukraine lost much of its Navy capability during Russia's illegal annexation of Crimea in 2014 and Ukraine has since continued to face a rising number of threats in the Black Sea and Sea of Azov.
As well as bringing skills, knowledge and expertise to the Ukrainian Navy, the Maritime Training Initiative will empower the Ukrainian Navy to work even more closely alongside international partners in defence of the Black Sea region. This will be in evidence later this year when Royal Navy ships visit the region.
---