---
British Royal Marines perform a military exercise in the fjords of northern Norway with Norwegian counterparts and their stealth corvette. The exercise saw marines of Plymouth-based 47 Commando, the small boat raiding specialists of 3 Commando Brigade of the British Arme Forces.
---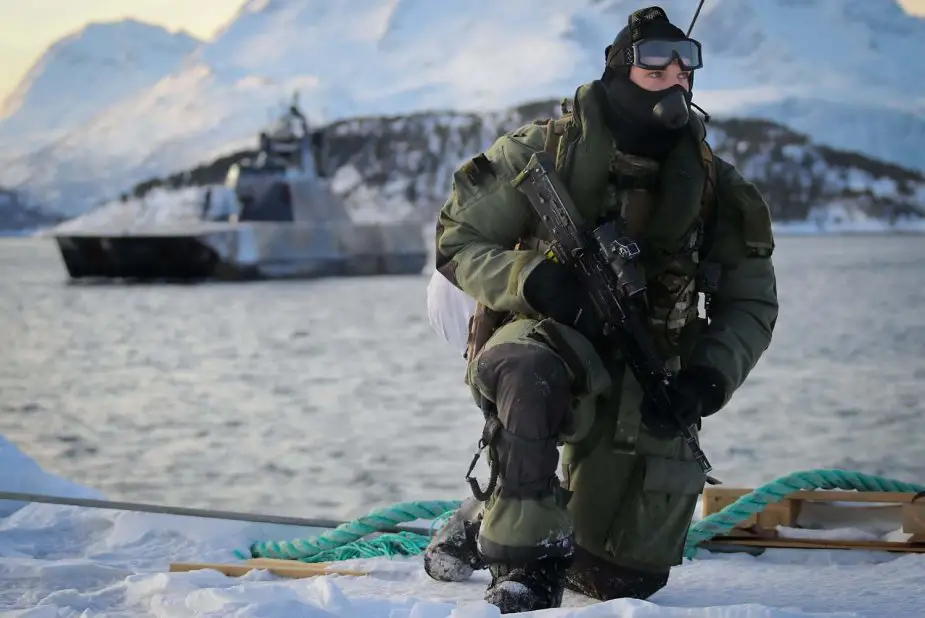 Commandos Raid alongside Norwegian stealth ship in the Artic (Picture source: Royal Navy)
---
The British Commandos were dropped ashore by the Skjold Class Corvette, stealth missile corvettes in service with the Royal Norwegian Navy. The Skjold design is a surface effect craft, constructed of glass fiber/carbon composite materials. Buoyancy is augmented underway by a fan-blown skirted compartment between the two rigid catamaran-type hulls.
The Skjold Class Corvette is armed with eight Kongsberg NSM (Nye Sjoemaals Missiler, or Norwegian strike missile) anti-ship missiles, which have been developed for the Skjold Class ships and for the Fritjof Nansen frigates. For air defense, the ship is armed with MBDA infrared surface-to-air guided missile. One Oto Melara 76mm Super Rapid is mounted at the front deck.
The goal of this exercise was to move discretely into position, securing the area and deployed troops using all-terrain vehicles in Arctic conditions.
The 47 Commando (Raiding Group) Royal Marines provides the Royal Marines expertise and training in small boat operations, both amphibious and riverine. In addition, it trains and parents the Assault Squadrons of the Royal Marines (ASRM) and their landing craft detachments. This unit is based at RM Tamar in HMNB Devonport, Plymouth.
---
Commandos Raid alongside Norwegian stealth ship in the Artic (Picture source: Royal Navy)
---