---
According to a Tweet published by the Royal New Zealand Navy on June 26, 2020, the new tanker/replenishment vessel HMNZS Aotearoa (A 11) has arrived in Auckland Harbour after 15 days at sea from Ulsan, South Korea. The Aotearoa is a new Polar-class support vessel built by Hyundai Heavy Industries, as part of the Maritime Sustainment Capability (MSC) project for the Royal New Zealand Navy.
Follow Navy Recognition on Google News at this link
---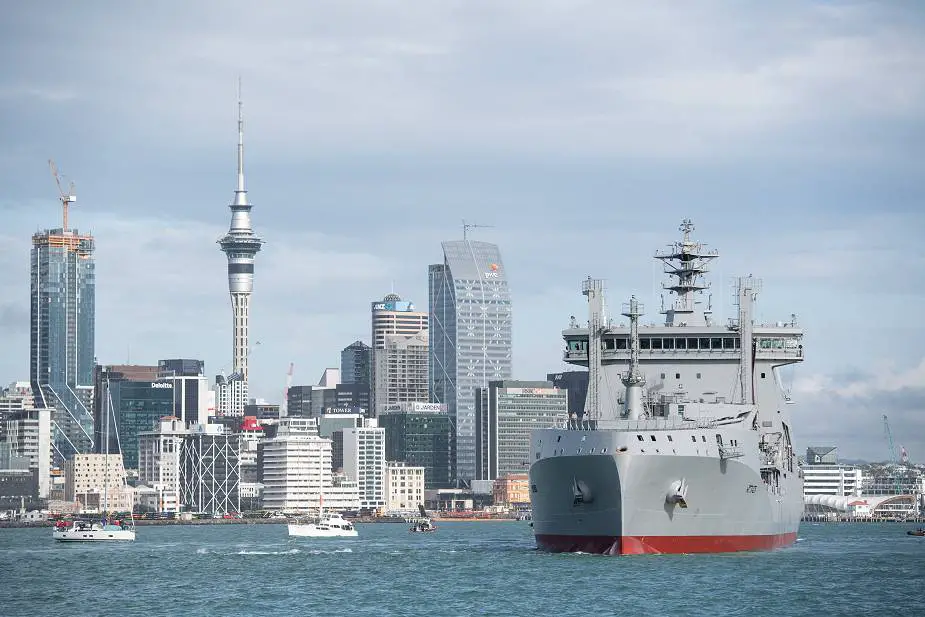 New tanker vessel HMNZS Aotearoa of Royal New Zealand Navy arrives into Auckland Harbour, on June 26, 2020. (Picture source Twitter account New Zealand Navy)
---
The HMNZS Aotearoa was launched on 24 April 2019, in Ulsan, South Korea and her formal naming ceremony was held there in October 2019. Following the successful completion of her sea trials, she will be ready to sail to New Zealand, although restrictions relating to Covid-19 make an accurate timeframe difficult to provide.
The HMNZS Aotearoa Polar-class is a purpose-built, technologically enhanced asset that will add real value to the Royal New Zealand Navy's combat operations, humanitarian relief functions and operational and training support. She will provide global sustainment to New Zealand and coalition maritime, land and air units, and United Nations security operations through resupply of ship and aviation fuel, dry goods, water, spare parts and ammunition.
The capabilities of Polar-class tanker/replenishment vessel include the ability to carry up to 22 x twenty-foot shipping containers, high capacity freshwater generation plants (enough to produce 100 tonnes per day), self-defense systems, aviation and marine fuel cargo tanks, dual all-electric replenishment at sea rigs, an SH-2G(NZ) Seasprite or NH90 medium utility helicopter, integrated communications and bridge systems, an integrated platform management system and winterisation features such as some upper deck trace heating and an ice-strengthened hull and underwater fittings.
The Aotearoa utilizes a world-first naval "Environship" leadge bow design. This design incorporates a new wave-piercing bow which reduces resistance and lowers fuel burn, while its Combined Diesel Electric and Diesel propulsion plant has lower fuel emissions than older vessels. Her Selective Catalytic Reducers will reduce harmful NOx exhaust emissions, and she has been built to adhere to Polar Code safety regulations and is ice-strengthened to Polar Class level 6 for Southern Ocean monitoring and Antarctic operations including the resupply of McMurdo Station and Scott Base.
The forward bow deck of the HMNZS Aotearoa will be equipped with a Phalanx close-in weapon system (CIWS), to provide close air defense against anti-ship missiles and aerial targets such as low-flying aircraft and helicopters. The ship has a length of 173.2 meters and a displacement of 26,000 tons. It can accommodate 98 naval personnel, including 64 core crew sailors.
---