---
Russia's new ekranoplan A-50 Chaika-2 armed with missiles was announced by Minister of Industry and Trade Denis Manturov as to be dedicated to patrolling the Northern Sea Route, as well as the Black and Caspian Seas.
Follow Navy Recognition on Google News at this link
---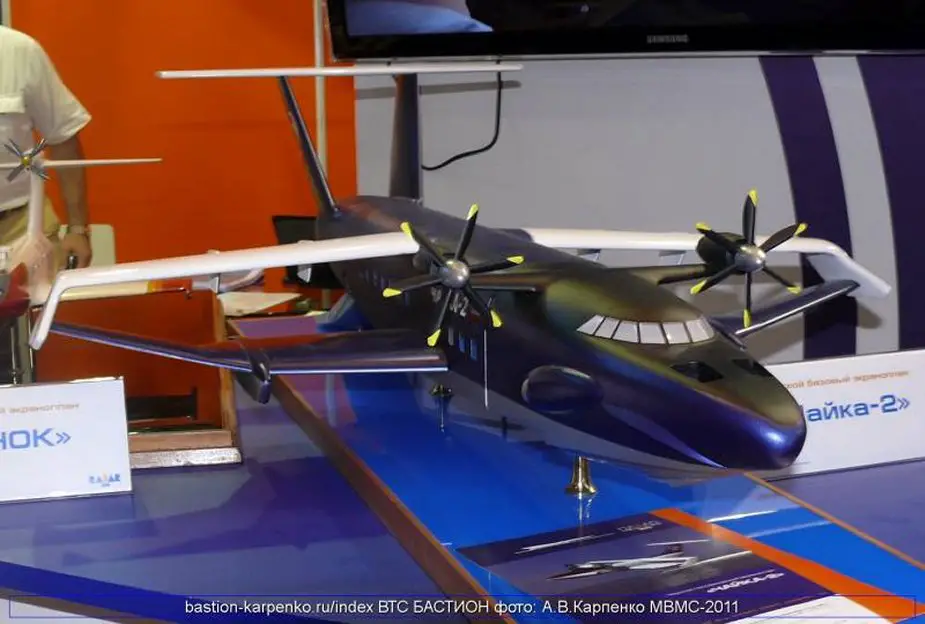 Scale model of the ekranoplan A-50 Chaika-2 (Picture source: A.B Karnenko)
---
A ground-effect vehicle (GEV), also called a wing-in-ground-effect (WIG), ground-effect craft, wingship or ekranoplan, is a vehicle that is designed to attain sustained flight over a level surface (usually over the sea) by making use of the ground effect, the aerodynamic interaction between the wings and the surface. The type is typically intended to operate from the water like a flying boat, but some can operate over any flat area such as frozen lakes or flat plains similar to a hovercraft. The beginning of the development of ekranoplanes was laid in the USSR. The vessel of the Lun project accelerated to 500 km/h, carried anti-ship missiles aboard and was practically invisible on radars. The smaller ekranoplan of the Orlyonok project could carry up to 150 fighters and several infantry fighting vehicles.
Project A-050-742D "Chaika-2" in its current form was the result of the cooperation of the Central Design Bureau for hydrofoil R. E. Alekseev (CKB po SPK) and the NPP "Radar MMS". In the framework of this cooperation, CKB of SPK is responsible for developing the main elements of the wig, a Radar MMS works on the creation of onboard equipment.
Due to modern materials, Chaika-2 weighs about 50 tons and can reach 450 km/h above the water surface, the ice, and even a flat steppe. Its range is claimed to reach 5,000km and it can carry up to 100 fighters or up to 9 tons of cargo.
---