---
On Monday, 18 May 2020, the Royal Australian Navy has commissioned on sea its newest Air Warfare Destroyer HMAS Sydney (V). It is the first commissioning of an Australian warship at sea since the Second World War. This ship is equipped with advanced combat systems, providing the ship with layered offensive and defensive capabilities to counter conventional and asymmetric threats.
Follow Navy Recognition on Google News at this link
---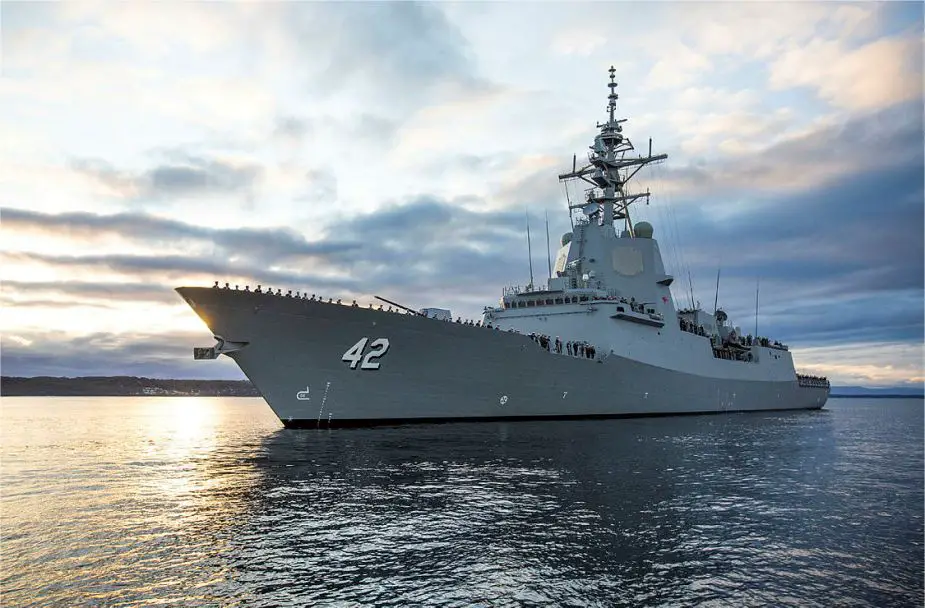 Royal Australian Navy has commissioned on sea its newest Air Warfare Destroyer HMAS Sydney (V), May 18, 2020. (Picture source Australian Navy )
---
The ceremony, conducted off the coast of New South Wales on Monday, 18 May 2020, marked the moment the 147-metre long Air Warfare Destroyer HMAS Sydney (V) became one of Her Majesty's Australian Ships.
HMAS Sydney (V) is the last of the three ships of the Hobart Class guided missile destroyers. Her sister ships are HMAS Hobart (III) and HMAS Brisbane (III). HMAS Sydney is based on the Navantia designed F100 frigate and is equipped with the Aegis Combat System.
The keel of Sydney (V) was symbolically laid down on 19 November 2015, on the anniversary of HMAS Sydney (II)'s sinking in November 1941. She was launched on 19 May 2018 by Mrs Judy Shalders, the wife of former Chief of Navy, Vice Admiral Russ Shalders, RAN, in Osborne, South Australia.
The Sydney was constructed in Australia by the Air Warfare Destroyer Alliance and when commissioned her principle role will be the provision of air defence to RAN task groups engaged in maintaining maritime security. Sydney will also be capable of supporting land forces and protecting important infrastructure in coastal areas.
The Aegis Combat System, incorporating a state-of-the-art phased array AN/SPY 1D(V) radar in combination with the SM-2 missile, will provide an advanced air defence system capable of engaging enemy aircraft and missiles at ranges in excess of 150km. Sydney will carry a MH-60R helicopter for surveillance and response to support key warfare areas. The surface warfare function will include long range anti-ship missiles and a naval gun capable of firing extended range munitions in support of land forces. Sydney will also conduct undersea warfare and be equipped with modern sonar systems, decoys, surface-launched torpedoes and an array of effective close-in defensive weapons. These capabilities ensure that the Hobart Class guided missile destroyers have the layered defensive and offensive capability required to counter conventional and asymmetric threats.
---