---
According to information published by the U.S. Department of Defense on June 4, 2021, U.S. Naval Forces Central Command (NAVCENT) and U.S. Air Forces Central (AFCENT) conducted multiple simultaneous, joint air operations in support of maritime surface warfare (AOMSW) exercises with United Arab Emirates (UAE) Coast Guard and Joint Aviation Command (JAC), and Royal Saudi Naval Forces (RSNF) in the Persian Gulf.
Follow Navy Recognition on Google News at this link
---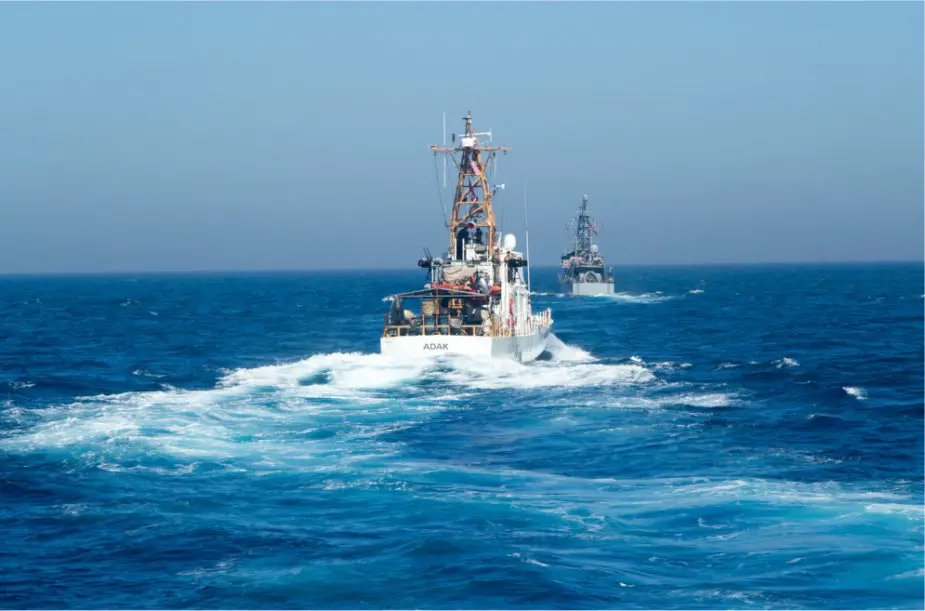 Island-class patrol boat USCGC Adak (Picture source: U.S Department of Defense)
---
The multi-positional exercises demonstrated NAVCENT's ability to conduct separate joint air and surface operations with partners in different locations, simultaneously.
The AOMSW exercises included Joint Terminal Attack Controllers (JTACs) directing a wide variety of platforms to conduct maritime strikes against simulated surface threats attempting to attack coalition forces.
Participating platforms included UAE AH-64D Apache and MH-60M Direct Action Penetrator (DAP) attack helicopters, U.S. Air Force F-16C Fighting Falcon multi-role fighters; the RSNF Al Sadiq-class patrol boat Khalid (519); U.S. Navy MH-60R Sea Hawk and MH-60S Night Hawk helicopters, U.S. Navy patrol coastal ships USS Tempest (PC 2), USS Hurricane (PC 3), USS Chinook (PC 9), USS Firebolt (PC 10), USS Thunderbolt (PC 12), guided-missile destroyer USS Mitscher (DDG 57), guided-missile cruiser USS Monterey (CG 61) and U.S. Coast Guard patrol boats USCGC Adak (WPB 1333), USCGC Baranof (WPB 1318).
A P-8A Poseidon maritime surveillance aircraft provided exercise-related command and control and reconnaissance support.
The 5th Fleet area of operations encompasses about 2.5 million square miles of water area and includes the Arabian Gulf, Gulf of Oman, Red Sea and parts of the Indian Ocean.
USCGC Adak (WPB-1333) is a United States Coast cutter that received her name from Adak Island in the Aleutian Islands of Alaska. Adak was placed in commission on 18 August 1989, at Bollinger Shipyard in Lockport, Louisiana.
The 110-foot Island-class patrol boat is a U.S. Coast Guard modification of the British shipbuilder, Vosper Thornycroft patrol boat design. The Island-class design is a semi-displacement type mono-hull made of high-strength steel, while the main deck and superstructure are aluminum.
They employ an active fin stabilization system to improve their sea-keeping abilities. With a top speed in excess of 30 knots (56 km/h; 35 mph) and a cruising speed of 26 knots (48 km/h; 30 mph), the ship is capable of enduring unsupported operations for six days and accommodates three officers and nineteen enlisted personnel. With excellent range and sea-keeping capabilities, the Island-class, all named after U.S. islands, replaced the older 95-foot Cape-class cutters.
These cutters are equipped with advanced electronics and navigation equipment and are used in the Coast Guard's maritime homeland security, migrant interdiction, fisheries enforcement, and search-and-rescue missions.
---