---
According to information published by UK Department of Defence on March 31, 2021, the Royal Navy has completed its first deployment into the Arctic in 2021 after a joint operation with the Norwegians. Frigate HMS Lancaster linked up with HNoMS Thor Heyerdahl and F-16 jets for a patrol of the Norwegian Sea and combined training in the confined waters of Norway's fjords.
Follow Navy Recognition on Google News at this link
---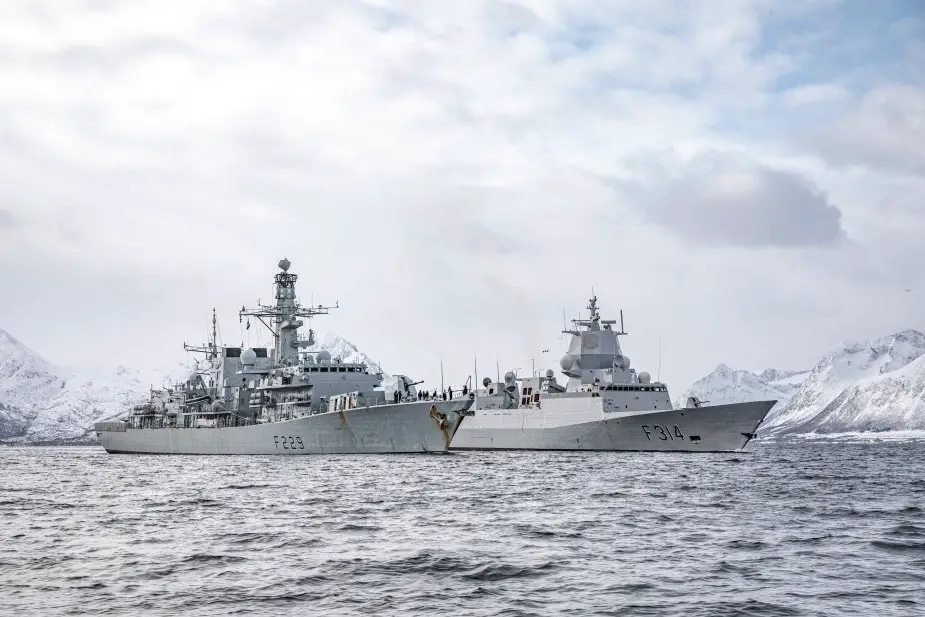 HMS Lancaster and HNoMS Thor Heyerdahl shelter from Arctic storms in a fjord (Picture source: Royal Navy)
---
On entering the Arctic Circle, Lancaster and Thor Heyerdahl worked together to improve the smooth operation of the two allies across the full range of naval warfare in the High North: navigation, communications and dealing with threats below, on and above the waves.
Two Norwegian Air Force F-16s provided the two ships with a realistic 'foe' in the Arctic skies.
Late winter storms caused the warships to seek the shelter of the fjords which afforded extra training for bridge teams in confined waters – and allowed the ship's company some rare Arctic sightseeing while conducting damage-control drills.
The HMS Lancaster is a Duke-class Type 23 frigate in service with the British Royal Navy that was launched in May 1990. She underwent a life extension refit (LIFEX) at HMNB Devonport from 2017 to 2019 which included fitting the Artisan 3D radar, Sea Ceptor anti-air missiles, and strengthening the backbone of the ship.
The HMS Lancaster frigate is armed with 32-cell GWS.26 VLS canisters able to launch Sea Ceptor air defense missiles, two quad Harpoon anti-ship missile launchers two twins 12.75 in (324 mm) Sting Ray torpedo tubes, one BAE 4.5-inch Mk 8 naval gun, two 30 mm DS30M Mk2 guns, or, two 30 mm DS30B automatic cannons, two Miniguns, General-purpose 7.62mm machine gun and now .50 heavy machine guns.
The Type 23 frigate or Duke-class is a class of frigates built for the United Kingdom's Royal Navy. Originally designed for anti-submarine warfare in the North Atlantic, the Royal Navy's Type 23 frigates have proven their versatility in warfighting, peacekeeping and maritime security operations around the globe. Thirteen Type 23 frigates remain in service with the Royal Navy, with three vessels having been sold to the Chilean Navy.
---