---
According to a tweet published by Japan Maritime Self Defense Forces on May 26, 2021, the fast combat support ship JS Hamana conducted joint training in the waters south of Shikoku with the amphibious assault ship USS America (LHA-6).
Follow Navy Recognition on Google News at this link
---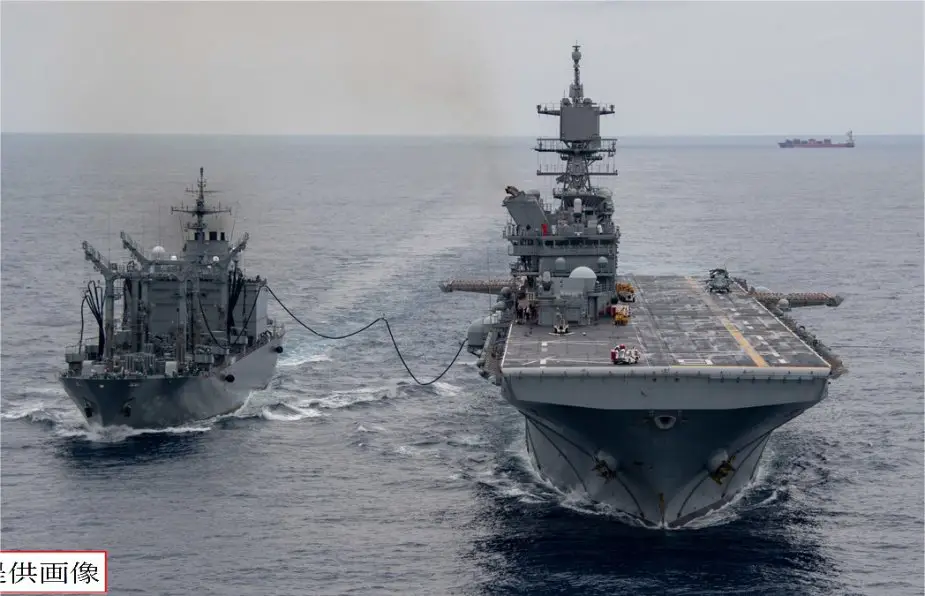 JS Hamana AOE-424 with USS America LHA-6 (Picture source: Twitter account of JMSDF)
---
JS Hamana (AOE-424) is the third ship of the Towada-class replenishment ships of the Japanese Maritime Self-Defense Force. She was commissioned on 29 March 1990.
The Towada class is a series of replenishment oilers of the Japan Maritime Self-Defense Force. Three ships of the class were built between 1985 and 1989. The ships have the hull designator AOE.
The vessels are capable of mounting the Phalanx CIWS by design, although this is not a common occurrence.
The Towada-class is fitted with six transfer stations (four wet and two dry ones) for underway replenishment (UNREP) as well as a large helicopter deck for vertical replenishment (VERTREP). The remotely controlled pump system allows for the transfer of 11,000 liters per minute. This is to ensure that the refueling sequence lasts less than five minutes to reduce the exposure of the force to the submarine threat.
The USS America is an amphibious assault ship of the United States Navy and the lead ship of her class. The class is designed to put ashore a Marine Expeditionary Unit using helicopters and MV-22B Osprey V/STOL transport aircraft, supported by AV-8B Harrier II or F-35 Lightning II V/STOL aircraft and various attack helicopters.
The USS America can be used as a small aircraft carrier with a squadron of jet fighters plus several multipurpose helicopters, such as the MH-60 Seahawk. It can carry about 20 to 25 AV-8B, F-35Bs. She has a hangar large enough to accommodate aircraft movement. The ship also has increased aviation fuel capacity, and storage for aviation parts and support equipment.
The USS America is armed with two rolling airframe missile launchers and two evolved Sea Sparrow missile (ESSM) launchers. She is also armed with seven dual .50 caliber machine guns and two Phalanx CIWS (Close-In Weapon System).
The USS America is powered by two gas turbines, two shafts, with 70,000 bhp (52,000 kW) total and two 5,000 hp (3,700 kW) auxiliary propulsion engines. She can reach a top speed of 20 knots (37 km/h; 23 mph). She has a crew of 65 officers, 994 sailors and can accommodate 1,687 Marines.
---