---
According to information published by the U.S. Department on September 6, 2021, Canadian coast guard ship Amundsen conducts a joint search and rescue exercise with U.S Coast Guard Cutter Healy near Resolute, Nunavut, Canada.
Follow Navy Recognition on Google News at this link
---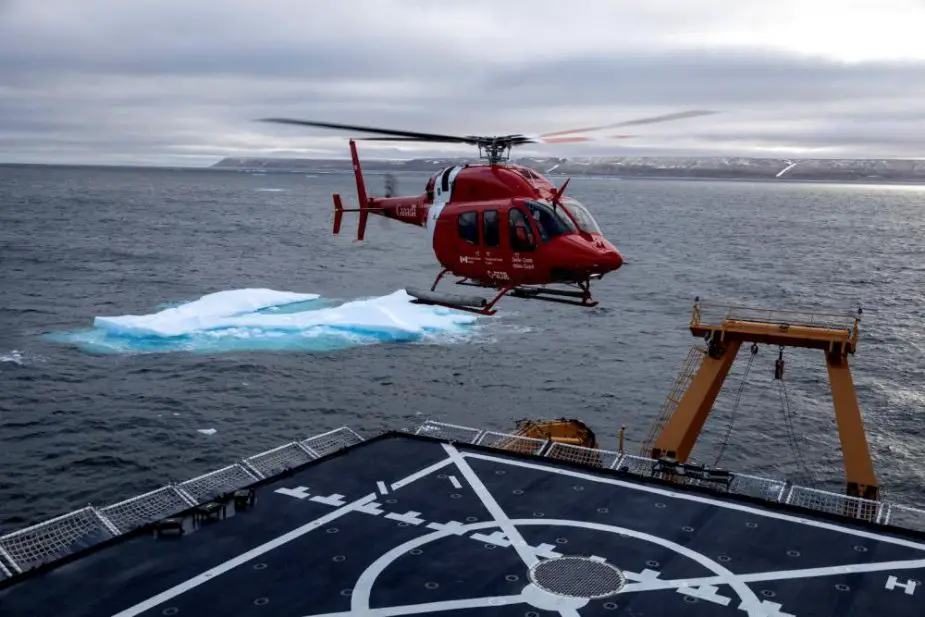 An aircrew aboard a Canadian coast guard Bell 429 helicopter prepares to land aboard the Coast Guard Cutter Healy (WAGB 20) while near Resolute, Canada (Picture source: U.S Department of Defense)
---
CCGS Amundsen is a Pierre Radisson-class icebreaker and Arctic research vessel operated by the Canadian Coast Guard. The vessel entered service in 1979 as Franklin and was renamed Sir John Franklin in 1980 and served as such until 1996. Declared surplus, the vessel was used as an accommodation ship in Labrador in 1996 and placed in reserve in 2000. In 2003, the ship was reactivated and underwent conversion to an Arctic research vessel. The ship was re-commissioned as Amundsen.
The Pierre Radisson class were designed for Coast Guard operations in the Arctic Ocean. Amundsen has a standard displacement of 6,400 long tons (6,500 t) and is 8,180 long tons (8,310 t) fully loaded. The vessel has a gross tonnage of 5,911[2] and a net tonnage of 1,678. The ship is 98.3 metres (322 ft 6 in) long overall with a beam of 19.5 metres (64 ft 0 in) and a draught of 7.2 metres (23 ft 7 in).
Amundsen is equipped with a Sperry navigational radar operating on the E/F and I bands. The icebreaker has a flight deck and hangar which originally accommodated a MBB Bo 105 or Bell 206L light helicopter, but currently supports the Bell 429 GlobalRanger and Bell 412EPI. The vessel is certified as Arctic Class 3 and has a complement of 31 with 11 officers and 20 crew. Amundsen has an additional 51 berths.
---