---
According to information published by Tass on September 24, 2021, Russia is designing a line of robotic complexes for various purposes, including for the Navy. Several unmanned underwater craft weighing from several kilograms to 50 tons have been designed. Some of them have passed the trials and were accepted into service.
Follow Navy Recognition on Google News at this link
---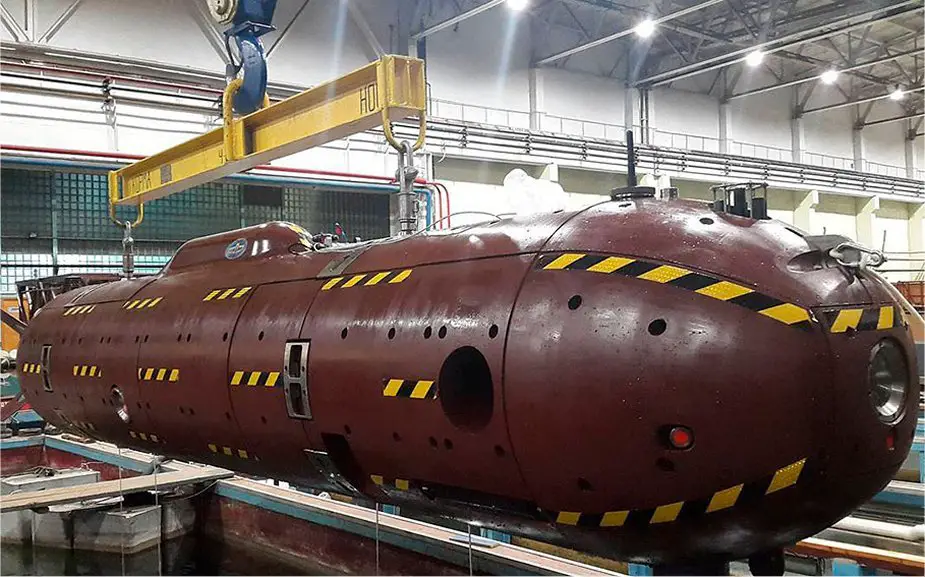 Klavesin-2R-PM Unmanned Underwater Vehicle (Picture source: Voennodelo)

---
Klavesin craft was designed by Rubin Bureau. It weighs 2500 kg, submerges to 6000 meters and autonomously operates 120 hours. It was designed for search operations and research and was upgraded into Klavesin 2R-PM of 3700 kg in 2013. Acceptance trials were held in the Black Sea. Rubin CEO Igor Vilnit said a family of various Klavesins would be developed.
The Vityaz craft weighs 5600 kg, submerges to 12 km, and autonomously operates 18 hours. The design was financed by the Prospective Research Fund (FPI). The project began in 2017 and produced the prototype of a fully autonomous underwater craft, which three years later submerged to the seabed of the Mariana Trench. The craft will submerge in other parts of the World Ocean.
Surrogat complex has a modular design to imitate diesel-electric and nuclear submarines and produce their acoustic and electromagnetic fields. A powerful lithium-ion battery makes it operate 15-16 hours and reproduce submarine maneuvers at a speed of 24 knots.
Amulet unmanned underwater craft (weight 17.5 kg, autonomous operation 4 hours) and Amulet-2 (22 kg and 2 hours) belong to unarmed vehicles for research and survey, seabed and hydrosphere information collecting.
Yunona craft with a weight of 80 kg and autonomous operation of 6 hours was for the first time displayed at Army-2015 forum. It can submerge to a thousand meters for seabed research, rescue and guarding operations. It can promote shelf development and be exported. "The price/quality ratio of underwater craft of Rubin and several unique characteristics make the vehicles competitive in foreign markets," Vilnit said.
Rubin is the leading Russian designer of marine robots. Malakhit Design Bureau also deals with unmanned underwater craft. It is designing the first Russian heavy remotely-operated unmanned underwater craft for various technical works at a depth of 3 thousand meters. Malakhit also designs remotely-controlled underwater craft for search and survey and detection of toxic, explosive, nuclear substances, as well as potentially dangerous underwater objects.
The Defense Ministry and some enterprises earlier had to import unmanned underwater craft. The imports are being replaced by Russian analogues. Thus, the British Tiger will be replaced by Marlin-350 with a weight of 50 kg and a speed of 2 knots. The research and rescue craft is capable of maintenance at underwater objects and guarding them. Since 2013 the Russian Navy has received several Gavia craft of Teledyne Company in Iceland. They will be replaced by Concept-M with a weight of 150 kg, speed of 5 knots and autonomous operation of 17 hours.
SeaScan MK2 of the French ECA Group were supplied in 2016-2018 for minesweepers of project 12700. They can be controlled by the warships and Inspector Mk2 unmanned surface craft. Russia had to receive three boats with SeaScan in 2016-2018. The replacement of the French craft with Scanda analogues is planned.
SEASCAN is a light weight self-propelled ROV dedicated to inspection missions. Its unique architecture ensures second to none performances in terms of hovering capability and stability in turbulent water. The SEASCAN can be used for underwater mine identification, environmental discovering as well as the anchorage or hull checking.
---