---
According to information published by Военный Осведомитель on April 15, 2022, the Russian forces seize the Ukrainian Gyurza-M class artillery boat Kremenchuk in Mariupol.
Follow Navy Recognition on Google News at this link
---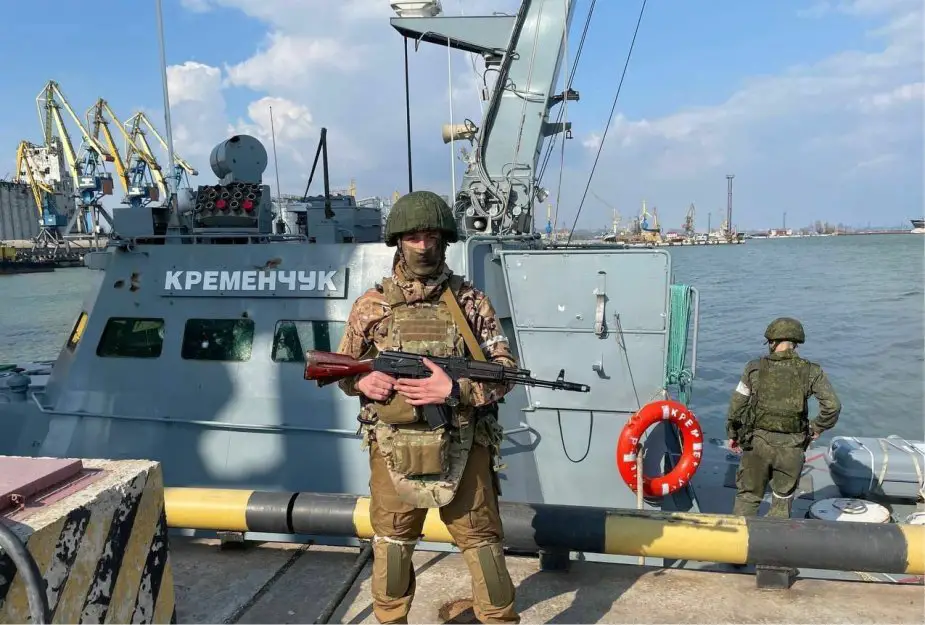 Project 58155 (Gyurza-M-class) artillery boat Kremenchuk (Picture source: Военный Осведомитель)
---
The Project 58155 Gyurza-M class is a series of small armored gunboats in service with the Ukrainian Navy. The first two vessels were laid down at the Kuznya na Rybalskomu (previously Leninska Kuznya) shipbuilding plant in October 2012. Originally it was planned to build nine such vessels by 2017.
The range of missions for the Gyurza-M could include security patrolling of littoral waters; river and lake policing; fighting small hostile ships; protection of off-shore infrastructures; support for sea-to-land and border guard operations; support for maritime safety; and reconnaissance and logistics support.
The armaments package for the Gyurza-M includes two combat modules BM-5M.01 "Katran-M" supplied by Mykolayiv Machinery and Repair Plant. The BM-5M.01 "Katran-M" is a naval counterpart of the BM-3 "Storm" combat module that was originally designed for armored fighting vehicle applications.
Each "Katran-M" module accommodates a 30-mm ZTM1 rapid-firing gun, a coaxial KT 7.62mm machine gun, and two "Barrier" ATGM launchers and a MANPAD system are additionally provided to protect against aerial attacks.
Control of the weapons is performed with an optronic fire control system.
Navigation is provided with the "Delta-M" radar system supplied by Kvant-Radiolocation, Kyiv. Other equipment includes the optoelectronic, small-to-medium caliber gunfire control system "Sarmat" and a set of laser warning sensors.
---