a
World Naval News - Australia
New Cutting Edge Missile Defence System for ANZAC Ships
Minister for Defence Stephen Smith and Minister for Defence Materiel Jason Clare today announced that the Government has approved the upgrade of all eight of the Royal Australian Navy's Anzac Class frigates with an advanced Anti-Ship Missile Defence system. The total project cost is in excess of $650 million, including the funds already spent upgrading HMAS Perth.

The ANZAC Class Anti-Ship Missile Defence (ASMD) project has also been removed from the Projects of Concern list.

The 2009 Defence White Paper outlined the Government's intent to put all of the ANZAC Class ships through an ASMD upgrade program, subject to the successful outcome of at-sea trials on the first ship.

The upgrade of HMAS Perth as the lead ship for the ASMD program was successfully completed earlier this year.

Following exhaustive testing, including in theUnited States, the Chief of Navy agreed to the operational release of the system in July 2011.

Government has now approved the installation of the system on the remaining seven ships of the ANZAC class by 2017.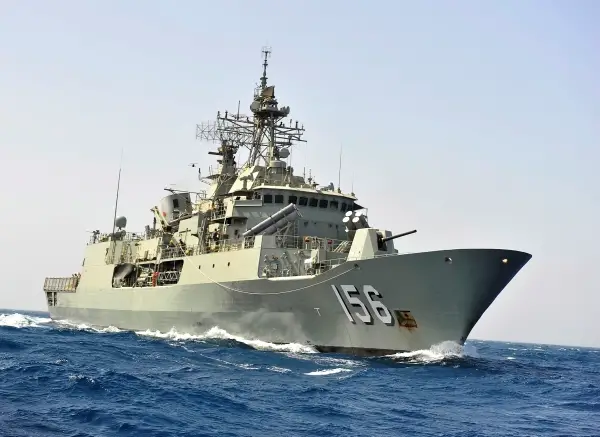 BAE Systems will upgrade the anti-missile defense of Australia's ANZAC-class frigates, allowing them to engage multiple targets for the first time.
(RAN photo)
Minister Smith said this was the latest weapon in Navy's arsenal and meant the Navy's ANZAC frigates would be a lot more capable.

At the moment our ANZAC frigates can track and destroy one target at a time.

The new system is able to identify, track and guide missiles to multiple targets at the same time.

Minister Clare said the project was a great Australian success story – cutting edge technology developed right here in Australia by CEA Technologies.

The remaining upgrade installation and integration work will be undertaken by the ANZAC Ship Integrated Materiel Support Program Alliance, comprising SAAB Systems, BAE Systems and the Defence Materiel Organisation.

Minister Clare said that the ASMD upgrade program is a good demonstration of how the Projects of Concern process can effectively manage difficult projects and deliver successful national security outcomes for Australia. (ends)