a
World Navy Force News - Russia / France
Russia to sign contract for the two other Mistrals In 2012
Contract for building of third and fourth Mistral-class landing ships will be signed in 2012, said Roman Trotsenko, the president of United Shipbuilding Corporation (USC).

"The arms procurement order includes construction of third and fourth Mistral-class assault landing ships for Russian defense ministry", he said. "It is planned to sign the contract in 2012. We consider the contract will be concluded, otherwise it would be no point to purchase technology", Trotsenko added.

According to the head of USC, first and second Mistral-class helicopter carriers will be half-built in St. Petersburg and then sent to France for assemblage. "Third and fourth Mistrals will be fully constructed in Russia", reports ITAR-TASS citing Trotsenko.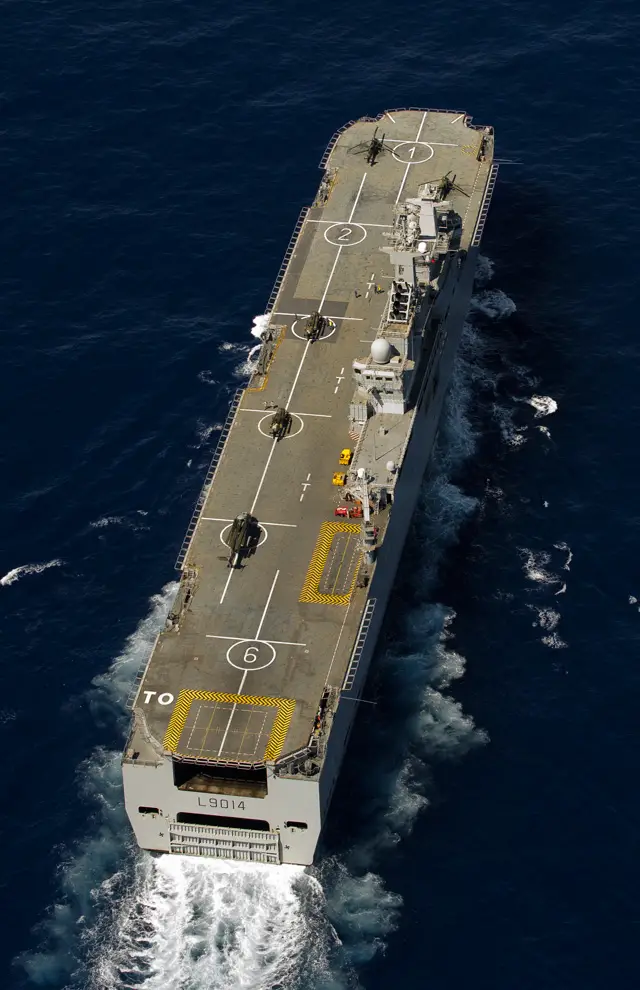 French Navy's Tonnerre (Mistral class) off the Lybian coast
(picture: French Navy)
On 24 December 2010, after eight months of talks, Russian President Dmitry Medvedev approved the purchase of two ships of the Mistral class (and an option for two more) from France for €1,37 billion (€720 millions for the 1st ship; €650 millions for the second). The final agreement between Russia and France has been signed on 25 January 2011.The first Mistral-class ship is expected to be built within 36 months after Russia made an advance payment in January 2011.

A second ship will be built within 48 months. At the initial stage, the consortium provides for the joint construction of two ships of this type with the subsequent production of two more. Russia will fulfill 20% of the required work during construction of the first Mistral class ship in the STX shipyards of Saint-Nazaire, France. The third and fourth ships will be constructed in St. Petersburg. Russia plans to build new shipyards on Kotlin Island near St. Petersburg. These will be used to construct Mistral class ships and other large civil and military vessels in the future.