a
World Navy Force News - Iran
IRGC Equips High-Speed Vessels with Home-Made Missiles
"The IRGC has mounted missiles on small vessels as well as high-speed vessels which enjoy high capabilities," Lieutenant Commander of the IRGC Naval Forces Alireza Tangsiri told FNA on Tuesday.

He underlined the home-grown nature of the missiles and speedboats used by the IRGC, and said, "The IRGC has the honor to produce all its needed vessels, equipment and missiles and at present we are witnessing production of various types of vessels by the force."

Iran has been pushing an arms development program in recent years in a bid to reach self-sufficiency. Tehran launched its arms development program during the 1980-88 Iraqi imposed war on Iran, to compensate for a US weapons embargo. Since 1992, Iran has produced its own jet fighters and armored vehicles as well as radar-evading missiles and other high-tech weapons.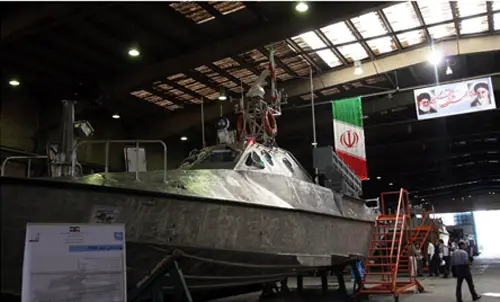 Iran's Zolfaqar fast ship
(picture: AFP)
Yet, Iranian officials have always stressed that the country's military and arms programs serve defensive purposes and should not be perceived as a threat to any other country.

Iranian Defense Minister Brigadier General Ahmad Vahidi announced in August that the country's Navy has equipped its new high-speed vessels named 'Zolfaqar' with 'Nasr 1' cruise missiles capable of destroying 3-ton weighted vessels.

"The Zolfaqar vessel is considered as a new model of the vessels of the same class which is capable of conducting operations in different marine conditions thanks to its sea-to-sea missiles and proper speed," Vahidi said at the time.

Reminding that the vessel has been strengthened with the Nasr 1 cruise missile, he reiterated, "The sea-to-sea cruise missile with high destructive capability and targeting power has immensely increased the vessel's power."

Nasr 1 is a short-range coast-to-sea and sea-to-sea missile which can be fired from coasts and all types of vessels.