a
Naval Forces News - South Korea
Republic of Korea Navy orders Thales minesweeping equipment
Thales has been awarded a contract to supply minesweeping equipment for the Republic of Korea Navy's (ROKN) new Mine Sweeper Hunters. The contract signed with ITT Corporation (now ITT Exelis) is for the supply of three ship sets of Advanced Acoustic Generators (AAGs) from Thales in Australia.


These will be provided by ITT Exelis to GMB USA, which is the prime contractor for the ROKN's Mine Sweeper Hunter (MSH) Combined Influence Sweep (CIS) project.

Jean Pellegrin, Thales Country Director South Korea, said: "The ROKN has committed to having the most advanced minesweeping technology, which is also in service with the Royal Australian Navy, the United States Navy, and two other navies."

"As new mine-related threats emerge, it is vitally important to deploy cutting-edge systems that deliver innovative and flexible capabilities to friendly naval forces on operations. We are extremely proud to be a part of the ROKN's capability in this area."

Chris Jenkins, Thales Australia's CEO, said: "This technology is the result of close cooperation with Australia's Defence Science and Technology Organisation (DSTO), as well as a long term investment to develop innovative, specialised solutions at our facility in Sydney, Australia. We believe the AAG is well suited to the export market, and this contract reflects growing international interest in our minesweeping systems."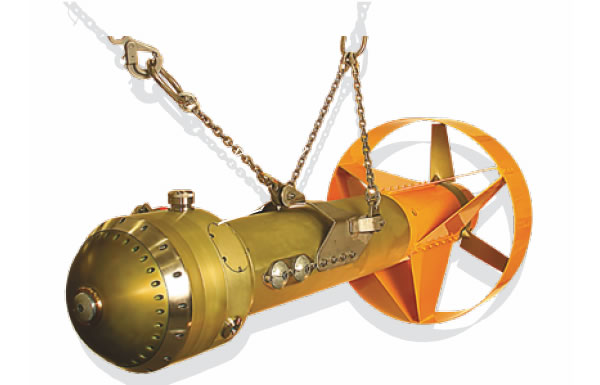 Advanced Acoustic Generator (AAG)
(Image: Thales)
"This latest contract also further confirms the capability advantage and cost competitiveness that can be provided by Australian industry."

The AAG is at the forefront of mine countermeasures technology. A water driven, turbine powered acoustic generator that emulates ship noise, it can be integrated with any sweep system. Originally developed by Thales Australia in conjunction with Adelaide-based SME Resonance Technology, and with the collaboration of DSTO, it meets a global need for sophisticated minesweeping products.

Thales in Australia manufactures and exports minesweeping products to navies throughout the world, and has established a significant design, manufacturing and production capability for these products.