a
Naval Forces News - USA
X-47B UCAS-D Completes First-Ever Carrier-Based Arrested Landing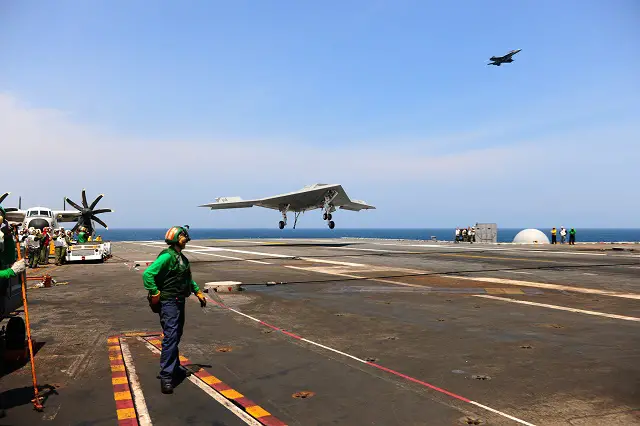 ATLANTIC OCEAN (July 10, 2013) An X-47B Unmanned Combat Air System (UCAS) demonstrator completes an arrested landing on the flight deck of the aircraft carrier USS George H.W. Bush (CVN 77). The landing marks the first time any unmanned aircraft has completed an arrested landing at sea. George H.W. Bush is conducting training operations in the Atlantic Ocean. (U.S. Navy photo by MC3 Kevin J. Steinberg/Released)
"By evolving and integrating new technology like the X-47B and the unmanned aircraft to follow, carriers will remain relevant throughout their 50-year lifespan," said Secretary of the Navy Ray Mabus.
Today's demonstration was the first time a tailless, unmanned autonomous aircraft landed on a modern aircraft carrier.
This test marks an historic event for naval aviation that Navy leaders believe will impact the way the Navy integrates manned and unmanned aircraft on the carrier flight deck in the future.
In May 2013, the X-47B successfully completed underway carrier deck operations aboard USS George H. W. Bush to
include a first-ever catapult launch
and nine touch-and-gos.
"We have certainly come a long way in the 102 years since Eugene Ely made the first arrested landing aboard an aircraft carrier. Naval aviators have always been at the forefront of operational and tactical innovation, and today was no exception," said Mabus. "People make unmanned aviation possible and it is people who will provide the fresh thinking and new ideas so crucial to successes like the X-47B program and the unmanned aircraft of the future."
From Secretary of the Navy Public Affairs
X-47B Completes First Carrier-based Arrested Landing (U.S. Navy video)