a
Naval Forces News - UK
Royal Navy's sixth Astute Class Attack Submarine (SSN) keel laid

The UK's submarine capability has taken a significant step forward today with work beginning on the assembly of Agamemnon, the Royal Navy's sixth Astute Class submarine. The keel, which is the first part of the boat to be built, was unveiled at a ceremony at BAE Systems' shipyard in Barrow-in-Furness by Defence Minister Philip Dunne.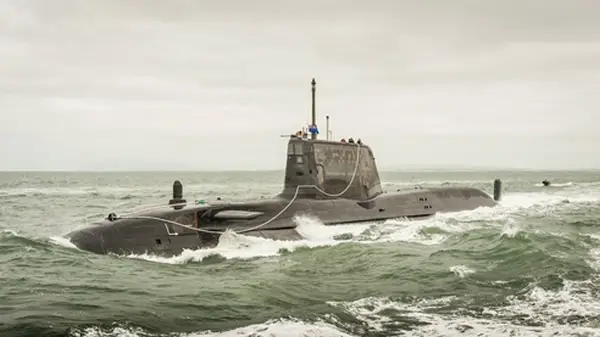 The second Astute class submarine Ambush
(Photo: BAE Systems)

It comes as the MoD announces that the first two of the seven Astute Class submarines, HMS Astute and HMS Ambush, are nearing completion of their extensive sea trials and have been handed over to the Royal Navy to begin to prepare for operations.

The seven Astute Class submarines are being built for the Royal Navy to replace the Trafalgar Class submarines.

The Astute Class has greater firepower, state of the art communications equipment and advanced stealth technology making them quieter than their predecessors and harder to detect.

HMS Astute and HMS Ambush are the first submarines in Class accepted by Navy Command, which is responsible for operating all of the Royal Navy's vessels.

The next three submarines in the Class: Artful, Audacious and Anson are all at varying stages of build and today's keel laying for Agamemnon marks the next key milestone for the programme.

BAE Systems Maritime Submarines (BAES (MS)) is responsible for delivering all seven Astute Class submarines and for the design of the successor to the Vanguard class, which will carry the UK's nuclear deterrent.

The MoD has agreed a new contract with BAES (MS) that will not only help to sustain the thousands of highly skilled defence jobs based at Barrow-in-Furness but drive down the costs of building future submarines.