a
Naval Defense Industry News - USA
Northrop Grumman Delivers First MQ-8C Fire Scout VTOL UAV to U.S. Navy
The U.S. Navy got its first look at the upgraded MQ-8 Fire Scout unmanned system when Northrop Grumman Corporation delivered its first MQ-8C system this month. Northrop Grumman is the Navy's prime contractor for the MQ-8 Fire Scout program of record. The company delivered the first MQ-8C aircraft to the Navy in early July in preparation for ground and flight testing.

GULF OF MEXICO — After exceeding the 8,000-flight-hour mark Friday, an MQ-8B Fire Scout assigned to Helicopter Sea Combat Squadron 22 Detachment 5 prepares to land aboard USS Robert G. Bradley for a "hot pump" and re-launch while conducting maritime intelligence, surveillance and reconnaissance (ISR) operations in the Mediterranean Sea March 11. Fire Scouts aboard Bradley are routinely flying 17-hour days while providing 12 hours on station ISR coverage in the U.S. Africa Command area of responsibility. (U.S. Navy photo)

"The endurance upgrade doubles the time on station of the MQ-8 system and will help reduce the workload for the ship's crew by cutting the number of times the crew will need to be in flight quarters," said George Vardoulakis, vice president, medium range tactical systems for Northrop Grumman. "Ground and flight testing are the next steps in meeting the urgent requirement for maritime intelligence, surveillance and reconnaissance. Testing on the Naval Air Systems Command test range provides us with extended air space to conduct and demonstrate long endurance and systems testing in a maritime environment."

The upcoming tests will be used to validate and mature the upgraded MQ-8 system for operational use. Initial ground testing will ensure that the systems work properly and communicate with the ground control station prior to conducting first flight. The MQ-8 system with the upgraded MQ-8C aircraft will share proven software, avionics, payloads and ship ancillary equipment with the MQ-8B aircraft.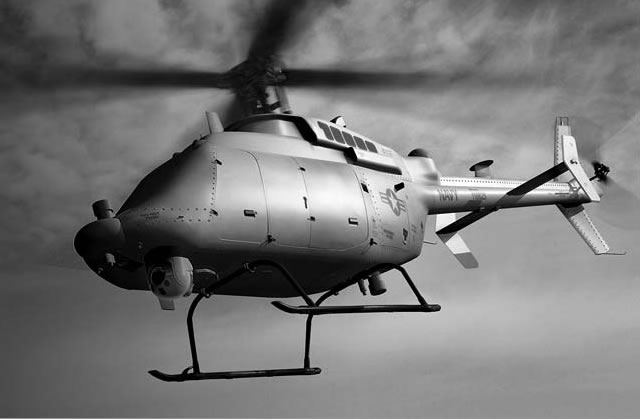 The Fire Scout endurance upgrade, designated the MQ-8C and based on Bell Helicopter's 407, will provide ship commanders with increased range, endurance and payload capacity over the current MQ-8B variant.
(Picture: Northrop Grumman)

The upgraded Fire Scout responds to an urgent need to provide the Navy with increased endurance, range and payload. Using a modified commercially available airframe, the upgraded MQ-8 system can provide commanders with three times the payload and double the endurance at extended ranges compared to the current MQ-8B variant.

The MQ-8B aircraft currently operates on Navy frigates and in Afghanistan, where it provides intelligence, surveillance and reconnaissance capabilities to maritime and ground commanders.

The first deployment of the upgraded MQ-8 system with the MQ-8C Fire Scout aircraft will be in 2014.