a
Naval Forces News - China
Chinese Navy (PLAN) new Type 096 SSBN may start Strategic Patrol as early as next year
China's navy new Type 096 nuclear-powered ballistic missile submarine (SSBN) will likely begin its first sea patrol next year according to U.S. defense officials. These patrols will also include the new JL-2 submarine-launched ballistic missiles (SLBMs).

Artist/fan impression of a Type 096 submarine launching SLBMs
The new Type 096 are rumored to be able to carry 24 SLBMs, compared to the 12 of the existing Type 094 Jin class SSBN. The new class is also rumored to feature a regular shape hull similar to modern western SSBN designs. (The two previous classes of Chinese SSBNs feature a hump which is used to host the balistic missiles).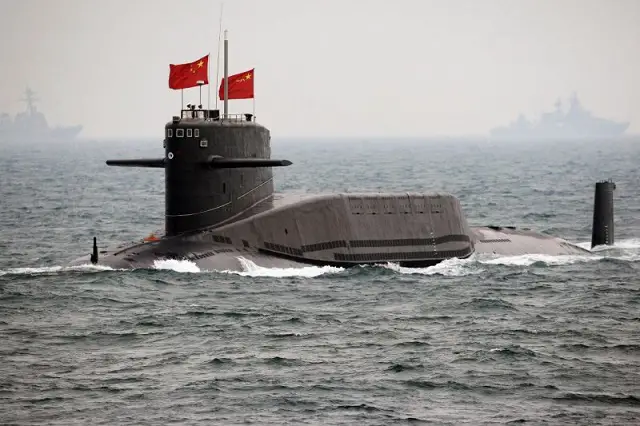 Type 094 Jin class SSBN
The new Type 096 will complement the existing Type 094 Jin class SSBN. The PLAN has 3 Jin class submarines in its fleet. The first-of-class was constructed at Huludao Shipyard in Huludao, Liaoning and launched in July 2004. Type 094s may deploy up to 12 JL-2.
PLAN Type 032 Test Submarine was used for the development (and test launches) of JL-2
JL-2 are Chinese second-generation intercontinental-range submarine-launched ballistic missile (SLBM) with a two-stage, solid–liquid-fuelled propulsion design. The missiles are thought to be able to deliver nuclear payloads (multiple warheads) between ranges of 8,000 and 14,000 km. JL-2's design is based on the mobile land-based DF-31 ballistic missile. Its development started in the early nineties. Chinese Navy Type 032 test submarine was used development and trials of the JL-2. JL-2 is now fully deployed onboard Type 094, will be deployed onboard the future chinese SSBN (Type 096).