a
Naval Forces News - Vietnam
Vietnam Navy selects MBDA Exocet and VL Mica missiles for its Sigma 9814 Corvettes
Vietnam has selected MBDA's Exocet MM40 Block III anti-ship missiles and VL Mica SAM systems for its two Damen built Sigma 9814 Corvettes according to French business weekly La Tribune. The two systems represent some of the most modern maritime superiority missile solutions.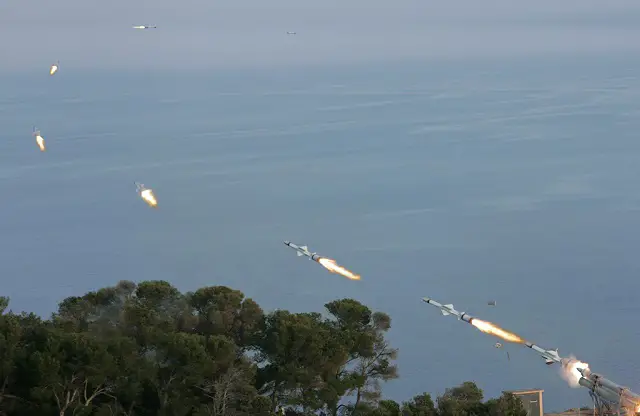 Exocet MM40 Block III
(picture: MBDA)

EXOCET MM40 Block3 is in service with the French Navy on its Horizon class frigates and will equip its variant of the Franco-Italian FREMM frigate. It has also been ordered by several other export customers. In April 2007, MM40 Block3 successfully carried out its final qualification firing. In March 2010, the French Navy carried out an operational firing of an Exocet MM40 Block3 from its Horizon class Chevalier Paul frigate. Series production of Exocet MM 40 Block 3 started in April 2008 and deliveries to customers have been on-going since April 2009.

The newest MM40 version (MM40 Block 3) has an improved range in excess of 180 kilometres (97 nautical miles) through the use of a turbojet engine, and includes four air intakes to provide continuous airflow to the engine during high-G manoeuvers.

The Block 3 missiles accept GPS guidance system waypoint commands, which allow them to attack naval targets from different angles and to strike land targets, giving them a marginal role as a land-attack missile. The Block 3 Exocet is lighter than the previous MM40 Block 2 Exocets.
VL Mica Launch
Picutre: MBDA/Michel Hans

The VL Mica system has been developed to provideself defence and local area defence capabilities to counter potential saturating attacks by anti-ship missiles. Canisters can be installed in a silo structure, part or fully buried in the ship's deck. Alternatively, the canisters can be installed alongside the ship's hangar or any suitable vertical bulkhead. Installation in a wide range of either new or retrofit warships, from fast patrol craft to major vessels, is therefore relatively easy. The canister serves as the storage and transportation unit as well as the vertical launcher. Missile system life cycle costs can there fore be minimised. Target designation can be derived direct from the ship's Combat Management System (CMS) with target data from a 3-D surveillance radar. Systems integration is facilitated via an electronic interface unit installed below deck. Each in terface unit links 12 VL MICA missiles to the CMS. As the system does not require dedicated target trackers, it has a truly 360 engagement capability.

It was announced in October 2011 that Damen shipyard in Vlissingen, Netherlands will build four Sigma corvettes for the Vietnamese Navy. The first two ships will be built in Vlissingen, and the last two (options) will be built in Vietnam, under Dutch supervision.