a
Naval Forces News - Russia
Russian Navy nuclear powered missile cruiser Petr Velikiy reaches Mediterranean Sea
After entering the Mediterranean through the Strait of Gibraltar, the Russian nuclear-powered missile-carrying cruiser Petr Velikiy, or Peter the Great, has cast anchor in the Alboran Sea. The crew used its 11-day, 3.2-thousand-mile voyage from the ship's home base of Severomorsk on the Barents Sea to practice air and anti-submarine defense operations. The cruiser's mission is part of Russia's plans to resume its naval presence in strategic areas.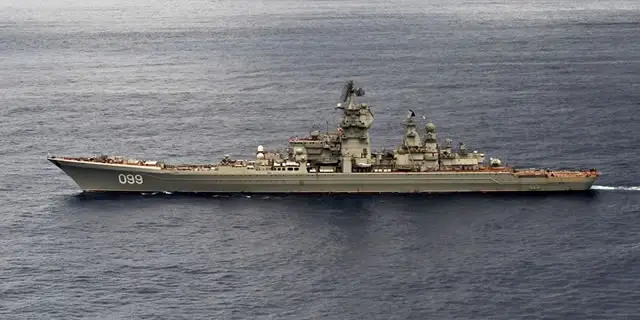 Petr Velikiy (Peter the Great) heavy nuclear-powered missile cruiser (TARKR), the fourth Kirov class battlecruiser of the Russian Navy, Picture: Ria Novosti

Petr Velikiy is the fourth Kirov class battlecruiser, a class of nuclear-powered warship of the Russian Navy, the largest and heaviest surface combatant warships after aircraft carriers currently in active operation in the world.

The Kirov class's main weapons are 20 P-700 Granit (SS-N-19 Shipwreck) missiles mounted in deck, designed to engage large surface targets. Air defense is provided by twelve octuple S-300F launchers with 96 missiles and a pair of Osa-MA batteries with 20 missiles each. Pyotr Velikiy carries some S-300FM missiles and is the only ship in the Russian Navy capable of ballistic missile defence.