a
Naval Forces News - USA
U.S. Navy awards contract to Boeing to produce 44 F/A-18 Super Hornets & EA-18G Growlers
The F/A-18 and EA-18G Program Office (PMA-265) announced today a contract award to Boeing for 44 F/A-18 Super Hornet and EA-18G Growler aircraft over the next two years.

"The F/A-18 and EA-18G program continues to thrive, and it is by far the predominant tactical force for naval aviation – both U.S. Navy and Marine Corps," said Capt. Frank Morley, PMA-265 program manager. "The hard work of the government and industry team to negotiate this contract will ensure that the great capabilities provided by these variants continue to serve our warfighters and foreign partners."

The F/A-18 and EA-18G Program Office (PMA-265) announced today a contract award to Boeing for 44 F/A-18 Super Hornet and EA-18G Growler aircraft over the next two years.
(picture: US Navy)
With this production contract in place, the Navy will procure the fiscal 2014 program of record aircraft in addition to the 12 EA-18Gs requested by Australia in July 2013 for the Royal Australian Air Force.
"The Navy's long-range strike fighter procurement strategy is to have a mix of F/A-18E/F Super Hornets and F-35 Lightning IIs by the early-2020s," Morley said. "We will operate F/A-18E/F and F-35 aircraft together from our aircraft carriers through the 2030s."
The Super Hornet is highly capable aircraft across the full mission spectrum: air superiority, fighter escort, reconnaissance, aerial refueling, close-air support, air-defense suppression and day/night precision strike.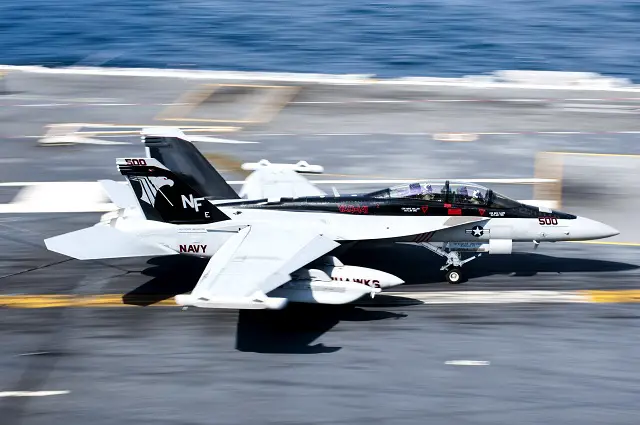 An EA-18G Growler from the "Shadowhawks" of Electronic Attack Squadron (VAQ) 141 is stopped by an arresting gear wire after landing aboard USS George Washington (CVN 73)
(picture: US Navy)
Similarly, the latest variant of the F/A-18, the EA-18G Growler, is an electronic attack aircraft combining the newly developed jamming capability upgrades of the EA-6B Prowler with the tactical versatility, advancements and capabilities of the Block II Super Hornet.
F/A-18 Hornets, Super Hornets and EA-18G Growlers currently operate in forty-three (43) U.S. Navy and eleven (11) U.S. Marine Corps Strike Fighter and Electronic Attack Squadrons from carriers and air stations worldwide. There are an additional fourteen (14) squadrons carrying out training, test, reserve and flight demonstration duties. In addition, international business customers include Canada, Spain, Finland, Kuwait, Malaysia, Switzerland and Australia, all who fly the F/A-18 Hornet. Australia has also purchased the F/A-18 Super Hornet and EA-18G Growler.