a
Naval Forces News - France
First Operational Deployment for a French Navy NH90 NFH Caïman Maritime Helicopter
A French Navy (Marine Nationale) NH90 NFH Caïman is currently conducting its first operational deployment on board the Horizon class air-defence destroyer Chevalier Paul, Navy Recognition learned from the French Navy. The Caïman detachment (the machine, pilots and associated support crew) belong to Flottile 31F based in Hyeres naval air station.

The NH90 NFH Caïman from Flottile 31F currently in operation in the Persian Gulf on board French Navy Horizon class air-defence destroyer Chevalier Paul. The vessel is part of the Charles de Gaulle carrier strike group. Picture: Mathieu Muller/French Navy

A French Navy spokesperson explained to
Navy Recognition
that the Caïman multi-role helicopter is conducting anti-submarine and anti-surface protection missions for the
Chevalier Paul
(classified as Frigate by the French Navy) and
Charles de Gaulle
carrier strike group (CSG).
The
Charles de Gaulle
CSG started air operation over Iraq (as part of operation Chammal) on 23 February, as part of a long deployment called "
mission Arromanches
".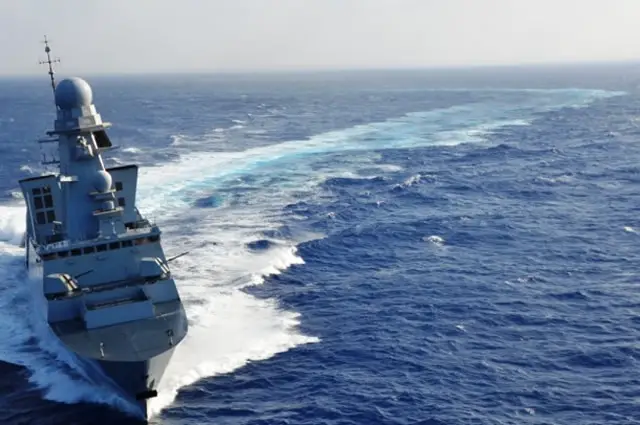 Horizon class air-defence destroyer. Picture: French Navy
The French Navy ordered 27 NH90 NFH and received the first one in December 2012. The twelfth unit was delivered in October last year. Thirteen of the NH90s will be fitted with a rear access ramp. The French Navy ordered 14 anti-submarine warfare kits (an optional equipment) for its entire fleet of Caïmans.

According to NH Industries, the NH90 NFH is the most modern and the best naval helicopter in its class. It has been designed with safety and versatility in mind in order to fulfill the most demanding missions in the harshest weather conditions for the XXIst century.

The NH90 features a redundant fly by wire system, a full composite corrosion free airframe, two powerful engines, a fully integrated weapon system as well as a wide cabin easily reconfigurable. It can operate from a shore base or a Frigate up to sea state 5.

Main Missions
Anti Submarine Warfare (ASW).
Anti Surface Warfare (ASuW).
Search and Rescue.
Maritime Surveillance and Control.
Limited Airborne Early Warning.
Logistic Transport and Utility support.
Vertical Replenishment (VERTREP).
Casualty Evacuation (CASEVAC).
Special Operations including Counter Terrorism and Anti-Piracy.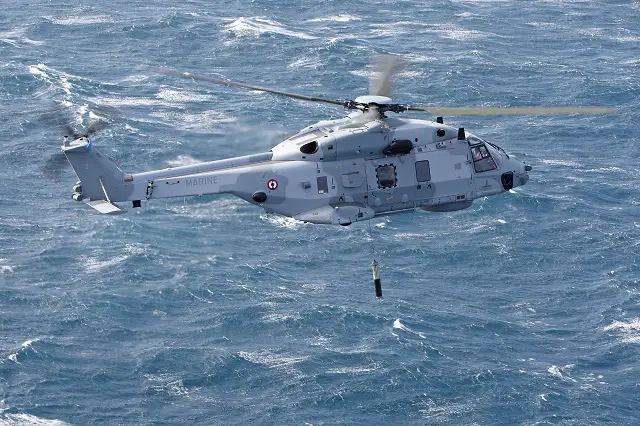 A French Navy NH90 NFH Caïman is deploying its FLASH dipping sonar. Picture: A.Pecchi/NHI