Australia Shortlisted Navantia Fincantieri and BAE Systems for the SEA5000 ASW Frigate Program
| | |
| --- | --- |
| | The Australian Governement announced the designs shortlisted for the SEA5000 ASW Frigate program. First pass approval for the Future Frigates. Three designers – BAE Systems with the Type 26 Frigate; Fincantieri with the FREMM Frigate, and Navantia with a redesigned F100 – have been short-listed to refine their designs. The frigates will all be built in Adelaide, incorporating the Australian-developed CEA Phased-Array Radar. |
a
PACIFIC 2015 Show News - SEA5000 ASW Frigate Program
Australia Shortlisted Navantia Fincantieri and BAE Systems for the SEA5000 ASW Frigate Program
The Australian Governement announced the designs shortlisted for the SEA5000 ASW Frigate program. First pass approval for the Future Frigates. Three designers – BAE Systems with the Type 26 Frigate; Fincantieri with the FREMM Frigate, and Navantia with a redesigned F100 – have been short-listed to refine their designs. The frigates will all be built in Adelaide, incorporating the Australian-developed CEA Phased-Array Radar.

The Competitive Evaluation Process is on schedule to return second pass approval in 2018, which will allow for construction to commence in Adelaide in 2020. This program is estimated to be worth more than $35 billion, and will directly create over 2000 jobs.

9 new frigates will be procured as part of the SEA5000 program which calls for the replacement of the RAN ANZAC class frigates. The Future frigate-class is expected to have anti-submarine warfare (ASW) capabilities and the CEAFAR2 radar currently in development by CEA.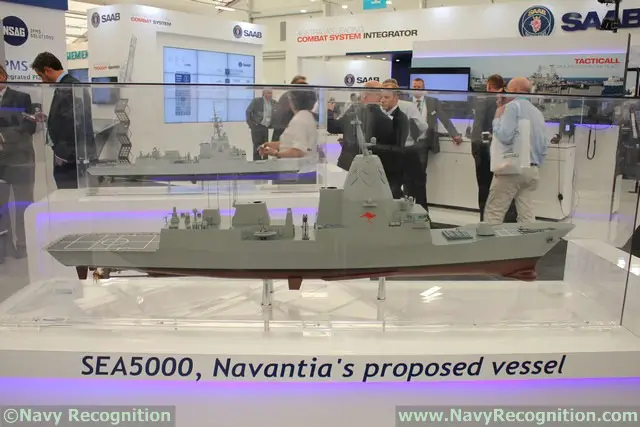 Navantia's SEA5000 proposal is based on the Hobart class Air Warfare Destroyer design
During PACIFIC 2015 exposition, Navantia of Spain was the only one showcasing an actual scale model of its SEA5000 proposal. The vessel relies heavily on the Hobart class AWD design already selected by the RAN. A Navantia official explained there is "up to 70% commonality between the two platforms from a production stand point". The vessel would be fitted with 48x MK41 VLS cells, a SAAB combat management system and 2 helicopter hangars.

Navantia SEA5000 proposal basic specifications:
Original design: RAN Hobart class ASW
Length overall: 147.2 m
Max beam: 18.6 m
End of life displacement: 7400 t
Accommodation: 237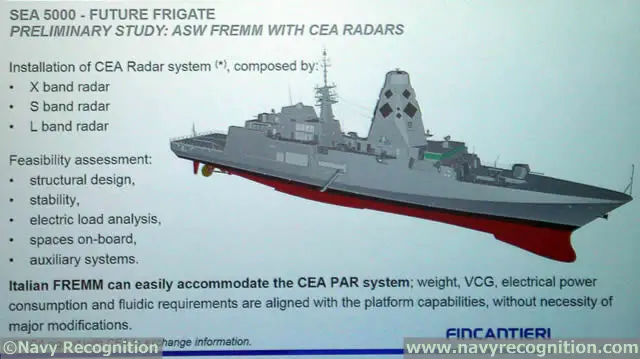 Fincantieri SEA5000 proposal is based on the Italian Navy FREMM ASW design
During an industry meeting at PACIFIC 2015, Fincantieri unveiled the design of its proposal for the SEA5000 Future Frigate program. Based on the Italian Navy FREMM ASW (Virginio Fasan class), Fincantieri says it recently conducted feasibility studies to proof the possibility to use its FREMM platform to cope with different Navy requirements (including Canada and Australia). The Italian FREMM "can easily accommodate the CEAFAR2 [ed. note Fincantieri presentation mentionned the CEA PAR system]; weigh, CVG, electrical power consumption and fluidic requirements are aligned with the platform capabilities, without the necessity of major modifications". Finally, Fincantieri says it can easily install the SAAB CMS on board.

Fincantieri SEA5000 proposal basic specifications:
Original design: ASW FREMM (Virginio Fasan class)
Length: 144 m
Max beam: 19.4 m
Displacement: 6,700 t
Accommodation: 167 (up to 200 for RAN)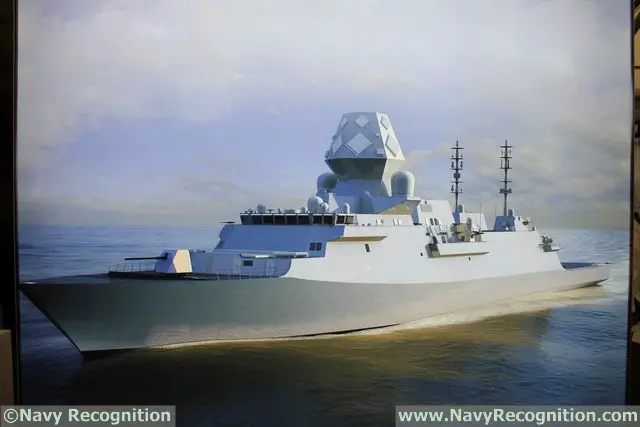 BAE Systems SEA5000 proposal is based on the future Royal Navy Type 26 design
The Type 26 is the future Anti-Submarine Warfare Frigate that will replace the Royal Navy's 13 Type 23 frigates and other ships. BAE Systems says the Type 26 / Global Combat Ship will be a highly capable and versatile multi-mission warship designed to support anti-submarine warfare, air defence and general purpose operations anywhere on the world's oceans. Navy Recognition could not meet a BAE representative who could talk about the SEA5000 GCS but we understand that it would be fitted with Mk41 cells exclusively (no CAMM which are present on the UK design) as well as a BAE Systems Mk 45 5 inch main gun.
BAE Systems SEA5000 proposal basic specifications:
Original design:
Global Combat Ship (Royal Navy Type 26)
Length: 148.5 m
Max beam: 20 m
Displacement: 6,000 t
Accommodation: 118 crew + 72 embarked forces