Defence Ministers from Belgium & Netherlands Sign MoU on Common Procurement of Vessels
.a
| | |
| --- | --- |
| | The Belgian Navy and the Royal Netherlands Navy will replace their existing mine counter measure vessels and frigates with vessels of the same type. The ministers of both countries signed a memorandum of understanding yesterday in Brussels. Belgium also sees opportunity to provide crew members for the Joint Support Ship logistic Zr. Ms. Karel Doorman. Netherlands will assist in the training of the Belgian Light Brigade amphibious. |
a
Naval Forces News - Belgium, Netherlands
Defence Ministers from Belgium & Netherlands Sign MoU on Common Procurement of Vessels
The Belgian Navy and the Royal Netherlands Navy will replace their existing mine counter measure vessels and frigates with vessels of the same type. The ministers of both countries signed a memorandum of understanding yesterday in Brussels. Belgium also sees opportunity to provide crew members for the Joint Support Ship logistic Zr. Ms. Karel Doorman. Netherlands will assist in the training of the Belgian Light Brigade amphibious.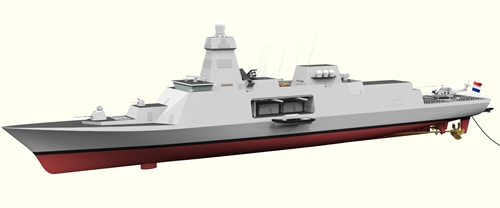 Computer rendering showing the early design of the M-class frigate replacement. Picture: Dutch Defence Materiel Organisation.
Training, ship maintenance and even sailors of both navies are already extensively integrated now. "The joint procurement M-class frigates replacement and new MCM vessels is the next logical step in our cooperation. This allows us to deepen our collective strength and to be operationally efficient" said Netherlands defence Minister Jeanine Hennis-Plasschaert.

The minister underlined the importance of the joint procurement for maritime countries like the Netherlands and Belgium. "With our vessels we can protect our ports and the maritime supply lines that are crucial for the open economies that characterize our countries."

For the replacement of the so-called M-class frigates Netherlands takes the lead, for mine hunters Belgium.

The Belgian Defence Minister Steven Vandeput agreed the importance of cooperation. "To maintain a broad and balanced armed forces our cooperation must continue, on a European level with our neighbors. Military cooperation only makes sense if there is a win-win situation for all parties, "he said.
The signing of the MoU. Picture: Dutch MoD.

To cope with current and future challenges Minister Vandeput issued a white paper on defence last summer (caller Strategic Vision 2030). Cooperation with the Netherlands is an important part of the white paper..

Belgium plans to provide a medical unit or helicopter detachment for the Dutch logistics support and supply vessel Zr. Ms. Karel Doorman. Minister Hennis welcomes this contribution.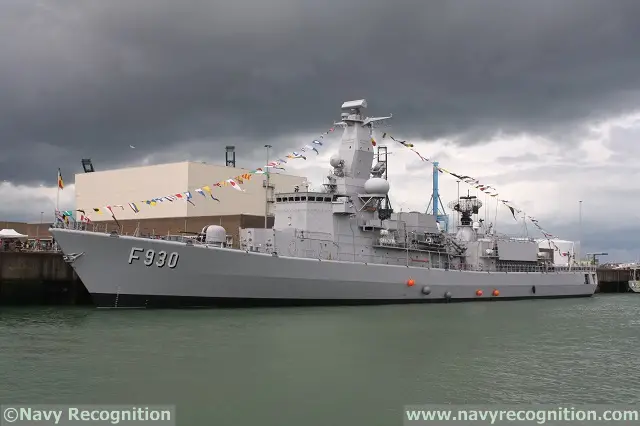 The MoU calls for the common replacement of existing M-class (Karel Doorman class) Frigates (pictured here Belgian frigate Leopold I) and MCM vessels of both navies