U.S. Navy Orders Long-Lead Components for 6 CMV-22B Osprey From Bell Boeing
.a
| | |
| --- | --- |
| | Bell Boeing Joint Project Office, Amarillo, Texas, is being awarded a $15,674,000 advance acquisition contract for long-lead components for the manufacture and delivery of six Lot 22 CMV-22 tiltrotor aircraft for the U.S. Navy. The CMV-22B is the Carrier Onboard Delivery (commonly referred to as COD) of the V-22 Osprey. |
a
Naval Forces News - USA
U.S. Navy Orders Long-Lead Components for 6 CMV-22B Osprey From Bell Boeing
Bell Boeing Joint Project Office, Amarillo, Texas, is being awarded a $15,674,000 advance acquisition contract for long-lead components for the manufacture and delivery of six Lot 22 CMV-22 tiltrotor aircraft for the U.S. Navy. The CMV-22B is the Carrier Onboard Delivery (commonly referred to as COD) of the V-22 Osprey.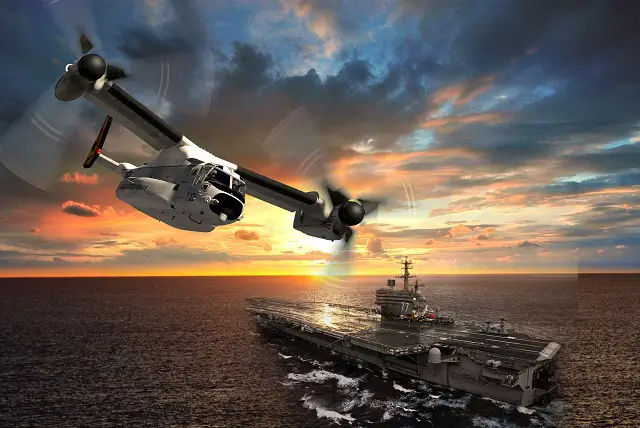 Artist impression showing a US Navy CMV-22B in a COD mission. Image: Bell
The main mission of the COD platform is to provide the Joint Force Maritime Component Commander with time-critical, long-range aerial logistics support by transporting personnel, mail and priority cargo from advance bases to the sea base. The CMV-22B will be the same as the MV-22B with three additions. It will include an extended-range fuel system, a high-frequency radio and a public address system.

The Osprey secondary Navy missions shouldl include:
- Personnel recovery (including SAR)
- Special warfare (with US Navy Seals)
CMV-22B Osprey model in US Navy colors on display at the Bell booth during Sea Air Space 2015
The CMV-22B should have larger external sponsons to fit more fuel inside. This would be the only physical difference with legacy V-22.

Currently, the U.S. Navy has planned for a total of 44 CMV-22B aircraft to be purchased. Production is expected to begin in fiscal 2018 and deliveries of the aircraft will begin in 2020.