Russian Navy Aircraft Carrier Admiral Kuznetsov & Cruiser Pyotr Veliky to be Upgraded in Late 2016
a
Naval Forces News - Russia
Russian Navy Aircraft Carrier Admiral Kuznetsov & Cruiser Pyotr Veliky to be Upgraded in Late 2016
The upgrade of Russia's only aircraft carrier, the Project 11435 (NATO reporting name: Kuznetsov-class) Admiral Kuznetsov, is to begin in late 2016, Captain 1st Rank Vladimir Tryapichnikov, chief, Shipbuilding Dept., Russian Navy, has told the Russian News Service radio in an interview.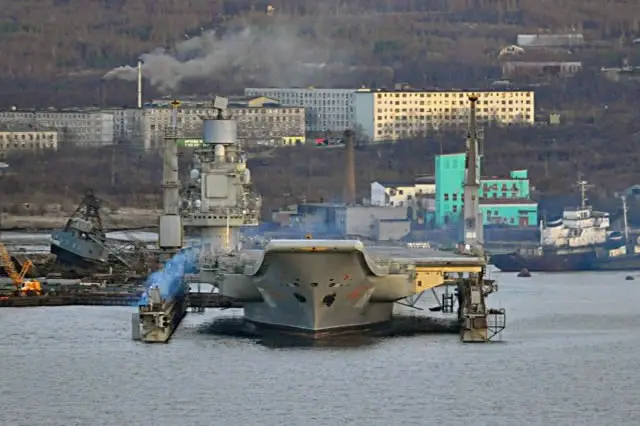 Russian Navy Aircraft Carrier "Admiral Kuznetsov" at dock 82 Shipyard in Severomorsk/Murmansk in 2015. Picture: Flotprom.ru

"The ship has to be maintained now and will be operated throughout 2016. Late in this year, it will be subjected to upgrade, after which it will get a new carrier air group and new capabilities affording it a two-to-threefold increase in performance," Tryapichnikov said without specifying the upgrade's schedule and contractor.

He explained that the carrier's updated air group would comprise advanced Mikoyan MiG-29K (Fulcrum-D) fighters "and other planes."

The aircraft carrier entered service in 1990. The ship has a full displacement of 58,000 tons, a length of 304.5 meters, a full capacity of 200,000 hp and a speed of about 30 knots. In addition to its air group of 24 or 26 fighter jets and 12 helicopters, the Admiral Kuznetsov is armed with anti-ship and air defense missile systems. The ship also has a ski-jump ramp and two aircraft elevators to support aircraft operations. The ship's crew totals 1,300 and its air wing has 660-strong personnel.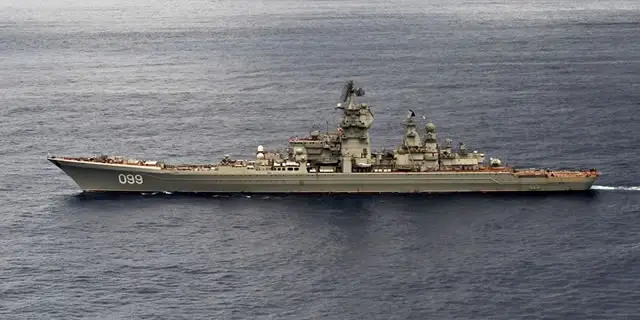 Pyotr Veliky (Peter the Great) heavy nuclear-powered missile cruiser (TARKR), the fourth Kirov class cruiser of the Russian Navy.

According to Tryapichnikov, the Sevmash Shipyard will begin to upgrade the Project 11442 Orlan-class Pyotr Veliky (Kirov-class) nuclear-powered guided missile cruiser once it has modernized the Admiral Nakhimov cruiser of the same class. "We not only draw up plans, we are implementing them as well. Today, we, Sevmash, the Severnoye Design Bureau and the manufacturer are jointly modernizing the Admiral Nakhimov heavy missile cruiser, with its modernization slated for completion in about 2018," he said. "Then, a similar upgrade will be applied to improve the armament, radars and electronic warfare systems of the Pyotr Veliky cruiser," the officer added.

Pyotr Veliky is the fourth Kirov class cruiser (and the only one operational today), a class of nuclear-powered warship of the Russian Navy. It is the largest and heaviest surface combatant warships after aircraft carriers currently in active operation in the world.

The Kirov class's main weapons are 20 P-700 Granit (SS-N-19 Shipwreck) missiles mounted in deck, designed to engage large surface targets. Air defense is provided by twelve octuple S-300F launchers with 96 missiles and a pair of Osa-MA batteries with 20 missiles each. Pyotr Veliky carries some S-300FM missiles and is the only ship in the Russian Navy capable of ballistic missile defence.

© Copyright 2015 TASS. All rights reserved. This material may not be published, broadcast, rewritten or redistributed.