a
Naval Forces News - Russia
Project 11356M Admiral Grigorovich Frigate Handed Over to Russian Navy
The Baltic Shipyards shipbuilding plant (a subsidiary of the United Shipbuilding Corporation, OCK) has handed over 'Admiral Grigorovich' Project 11356 frigate (Krivak-V/Admiral Grigorovich-class type ship) to Russian Navy, according to the plant`s official spokeperson, Sergei Mikhailov.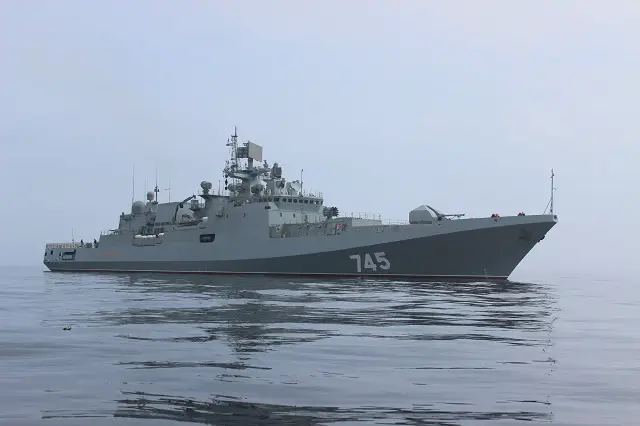 The Admiral Grigorovich class is the latest class of frigates ordered by the Russian Navy for the Black Sea Fleet. Picture: Yantar Shipyard

"The chairperson of the ship`s state inspection, Gennady Dmitriev signed the ship acceptance certificate on the board of the 'Admiral Grigorovich' frigate", Mikhailov said. According to Dmitriev, the ship "fully confirmed the claimed specifications during the sea trials".

The OCK`s Vice-President for naval shipbuilding, Igor Ponomarev, in his turn, pointed out that the Corporation is to hand over two Project 11356 frigates (namely, 'Admiral Essen' and 'Admiral Makarov') and 'Ivan Gren' Project 11711 landing ship (Ivan Gren-class) to Russian Navy in 2016.

The flag-raising ceremony on the board of the 'Admiral Grigorovich' frigate will take place on March 11, according to Mikhailov. 'Admiral Grigorovich' is to be commissioned to the Black Sea fleet of Russian Navy.

Project 11356 frigates are intended for anti-ship and anti-submarine operations in both off-shore and ocean areas. The ships can provide air defense both individually and as a part of ship order.
Project 11356 firgates are equipped with 100mm A-190 naval gun, Kalibr-NK (SS-N-27 Sizzler) cruise missiles, Shtil/Shtil-1 (SA-N-7 Gadfly/SA-N-7C Gollum) naval surface-to-air (SAM) systems, torpedoes and one Ka-27 (Helix) helicopter (optionally). Project 11356 frigate has a draft of 3620 t, a length of 124.8 m, a maximum speed of 30 kt and a range of 4850 nm.

© Copyright 2015 TASS. All rights reserved. This material may not be published, broadcast, rewritten or redistributed.