a
Naval Defense Industry News - USA, Canada
L-3 to Provide Depot-Level Maintenance for the U.S. Navy's F/A-18 A/B/C/D Fleet
L-3 Communications announced today that it has been awarded a contract to provide Depot-Level Maintenance (DLM) for the U.S. Navy's F/A-18 A/B/C/D fleet. The F/A-18 DLM contract provides the Navy with the additional capacity it needs to carry out F/A-18 A/B/C/D structural life-extension modifications and inspections that will significantly improve the availability of strike fighter assets to meet ongoing operational commitments. L-3's Platform Integration division in Waco, Texas, will serve as the prime contractor, while L-3 MAS in Quebec, Canada, will be responsible for inspection and modification of the aircraft structure, as well as associated engineering support.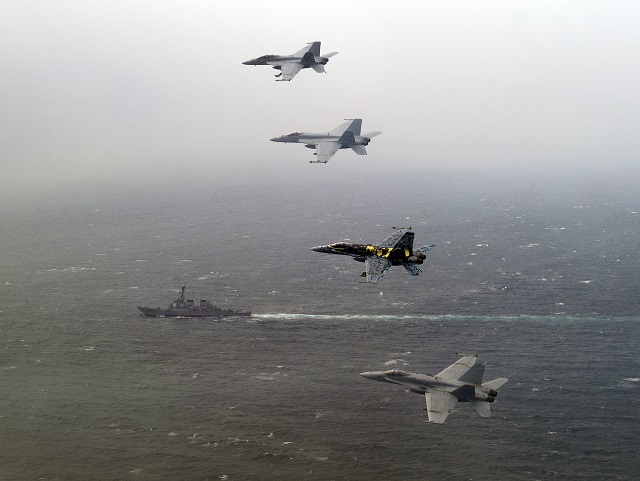 ARABIAN GULF (Feb. 25, 2012) From top; an F/A-18F Super Hornet assigned to Strike Fighter Squadron (VFA) 22, flown by Lt. Cmdr. Warren Tomlinson and Lt. j.g. Josh Raymond, an F/A-18E Super Hornet assigned to Strike Fighter Squadron (VFA) 81 flown by Lt. Daniel Solfelt, an F/A-18C Hornet assigned to Strike Fighter Squadron (VFA) 113, flown by Cmdr. Craig Sicola, and an F/A-18C Hornet assigned to Strike Fighter Squadron (VFA) 25 flown by Lt. Taylor Hesse, fly over the Arleigh Burke-class guided missile destroyer USS John Paul Jones during a mission flown from the Nimitz-class aircraft carrier USS Carl Vinson (CVN 70). Carl Vinson and CVW 17 are deployed to the U.S. 5th Fleet area of responsibility. (U.S. Navy photo by Mass Communication Specialist 2nd Class James R. Evans/Released)
"L-3 is honored to be selected by the U.S. Navy to conduct F/A-18 A/B/C/D life-extension and depot maintenance support work to help increase the Navy's number of Ready-For-Tasking aircraft," said Mark Von Schwarz, president of L-3's Aerospace Systems business segment, which includes the MAS and Platform Integration divisions. "By combining Platform Integration's naval aviation experience with MAS's world-class F/A-18 life-extension and depot maintenance expertise, L-3 demonstrates its ability to differentiate itself through collaborative capabilities in applying experience, performance and innovation to help a longtime valued customer achieve its goals."

L-3 Platform Integration has maintained a long-standing relationship with the U.S. Navy and is currently the Navy's preferred provider of P-3 DLM. L-3 MAS is a global leader in F/A-18 A/B/C/D depot maintenance and life-extension solutions for the U.S. Navy, as well as customers in Canada, Australia, Finland, Spain and Switzerland.

L-3 Platform Integration provides complex aircraft integration, sustainment and modification services for military, commercial and Original Equipment Manufacturer (OEM) customers. Spanning 30 years, the company's experience includes aircraft systems integration for maritime surveillance, advanced communications and avionics modernization on platforms ranging from small turboprop and business class aircraft to wide-body jets.

L-3 MAS, a division of L-3's Aerospace Systems business segment, is Canada's leading In-Service Support (ISS) integrator. L-3 MAS delivers innovative and integrated solutions, through fleet and life-cycle management, Electronic Information Environment (EIE) applications, systems engineering, maintenance, material management, publications and data management, and the full spectrum of ISS solutions to maximize customer platform effectiveness. L-3 MAS also offers turnkey solutions for the design, prototyping, manufacture, repair and overhaul, and certification of aerospace components. L-3 MAS is the ISS provider for a variety of fleets, including Canada's CF-18 Hornet fighter, CC-150 Polaris transport, CH-148 Cyclone maritime helicopter and CT-114 Tutor demonstration aircraft. L-3 MAS is headquartered in Mirabel, Quebec, and employs 650 people at operating centres across Canada.