a
Naval Forces News - Russia
Project 11356M Admiral Grigorovich Frigate Commissioned with Russian Navy
The Project 11356 lead frigate Admiral Grigorovich has joined the Russian Navy. The St. Andrew's flag has been hoisted on the vessel, a TASS correspondent reports from the scene. "This day is, indeed, an important event for the Black Sea Fleet. We are receiving a frigate that can operate in distant waters. This is the first vessel built at the Russian rather than Soviet wharves," Black Sea Fleet Commander Alexander Vitko said.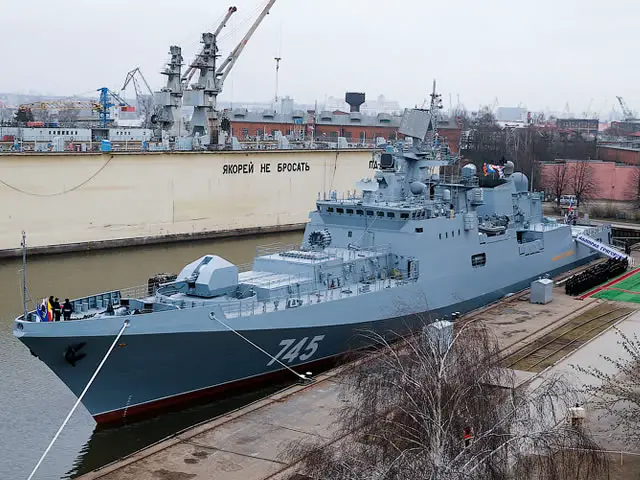 The Admiral Grigorovich during the commissioning ceremony. Picture: Yantar Shipyard

"We received several vessels and submarines in 2015. Today's flag-raising ceremony is the demonstration of Russia's policy to strengthen the country's naval forces," he added.

The solemn flag-raising ceremony was attended by representatives of the United Ship-Building Corporation and the authorities of the Kaliningrad Region, as well as the descendants of Admiral Ivan Grigorovich in whose honor the frigate had been named.
Russia 24 video
On Thursday, the acceptance report was signed at the Yantar Shipyard in Kaliningrad in west Russia. The Yantar Shipyard is building a series of Project 11356 frigates for Russia's Black Sea Fleet. This year, another two Project 11356 frigates Admiral Essen and Admiral Makarov are planned to join the Russian Black Sea Fleet.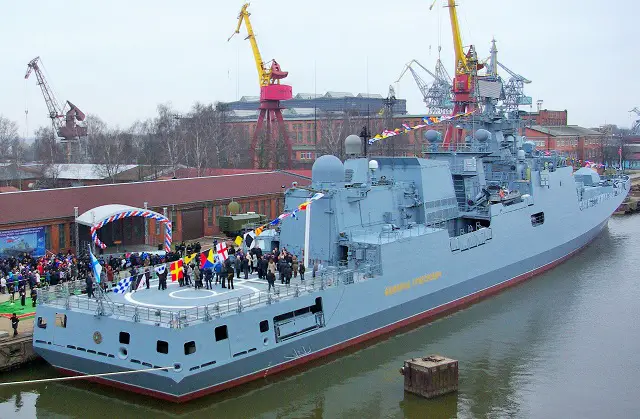 The Admiral Grigorovich during the commissioning ceremony. Picture: Yantar Shipyard

Project 11356 frigates are intended for anti-ship and anti-submarine operations in both off-shore and ocean areas. The ships can provide air defense both individually and as a part of ship order.

Project 11356 firgates are equipped with 100mm A-190 naval gun, Kalibr-NK (SS-N-27 Sizzler) cruise missiles, Shtil/Shtil-1 (SA-N-7 Gadfly/SA-N-7C Gollum) naval surface-to-air (SAM) systems, torpedoes and one Ka-27 (Helix) helicopter (optionally). Project 11356 frigate has a draft of 3620 t, a length of 124.8 m, a maximum speed of 30 kt and a range of 4850 nm.

© Copyright 2015 TASS. All rights reserved. This material may not be published, broadcast, rewritten or redistributed.