Russian Navy to modernize five Udaloy-class (Project 1155) ASW Destroyers by 2020

.a
a
Naval Forces News - Russia
Russian Navy to modernize five Udaloy-class (Project 1155) ASW Destroyers by 2020
Five Project 1155 large anti-submarine warfare (ASW) destroyers (Udaloy-class) will be upgraded and modernized by 2022 as their radio-electronic warfare and life support systems are to be overhauled, Russian Navy spokesman Igor Dygalo told reporters.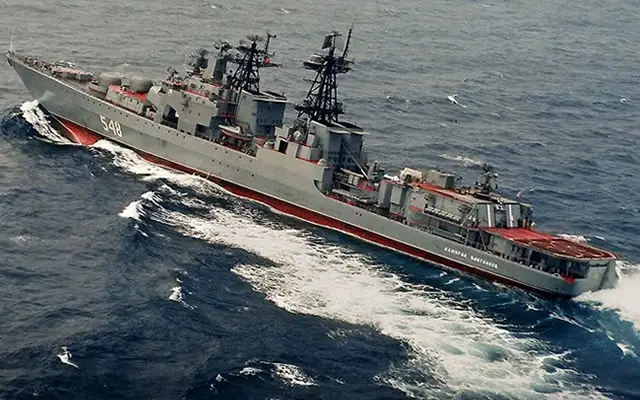 The Admiral Panteleyev destroyer, last ship of Udaloy I class
Udaloy I class (Project 1155R Fregat) anti-submarine destroyer datasheet, specification & pictures
"By 2022 five big antisubmarine warships of project 1155 of the Northern and Pacific fleets will be refurbished and modernized at shipyards in the North and the Far East," he said. Dygalo said the ships "will undergo a major overhaul of their life support and radio-electronic warfare systems."

In the summer of 2015 Admiral Viktor Chirkov who was Russian Navy commander-in-chief at the time said the big antisubmarine ships of project 1155 were included in the Navy modernization program and will receive modern missile complexes. He added the first warship will be rearmed with Onix and Caliber missiles in 2017. In 2016 Vice President of the United Shipbuilding Corporation for military construction Igor Ponomarev told TASS the shipyards have not received full tactical and technical assignments and the work "has not been launched in full volume".

At present the Russian Navy has eight big antisubmarine ships of project 1155. According to open sources, one of them is in reserve. The first warship of the type became operational in 1980.

The displacement of project 1155 warships is close to 7 thousand tons and the speed is up to 29 knots. The armaments include artillery AK-100 and AK-630M pieces, anti-aircraft and anti-submarine Kinzhal and Rastrub-B missile complexes, rocket-assisted bomb launchers, torpedoes and mines. Besides, each big antisubmarine warship can carry two Ka-27 helicopters.

© Copyright 2017 TASS. All rights reserved. This material may not be published, broadcast, rewritten or redistributed.