Satellite Image Show a Third Type 055 Destroyer Under Construction in China
.a
| | |
| --- | --- |
| | Satellite imagery from November 2016 seem to indicate that a 3rd Type 055 destroyer is being built at Dalian shipyard in Northern China. The first two hulls are currently under construction at Jiangnan Changxing naval shipyard new Shanghai. Type 055 is the next generation class of Guided-Missile Destroyer (DDG) for the People's Liberation Army Navy (PLAN or Chinese Navy). |
a
Naval Forces News - China
Satellite Image Show a Third Type 055 Destroyer Under Construction in China
Via our colleagues from Eastpendulum
Satellite imagery from November 2016 seem to indicate that a 3rd Type 055 Destroyer is being built at Dalian shipyard in Northern China. The first two hulls are currently under construction at Jiangnan Changxing naval shipyard new Shanghai. Type 055 is the next generation class of Guided-Missile Destroyer (DDG) for the People's Liberation Army Navy (PLAN or Chinese Navy).
Satellite imagery from November 2016 showing the 3rd Type 055 Destroyer under construction at Dalian shipyard in Northern China. Image from: 星海军事

Pictures of Type 055's first construction blocks emerged in October 2015 while pictures of the final assembly stage of the first vessel showed up in August last year.

The latest satellite images tend to confirm the rumors that have been running since 2015 according to which the construction of this new class of destroyers of 12,000 tons will be carried out at two different shipyards.

According to Chinese media, the first tranche consist in four vessels (including two built at the Dalian naval shipyard). The unit cost of Type 055 is in excess of 5 Billion Yuan (approx. $750 Million USD). The first keel is rumored to have been layed in December 2014. The first vessel is likely to be launched in early 2017 while delivery to the PLAN should not happen until 2018 at the earliest.
Satellite image of the artificial basin at Shanghai Jiangnan Shipyard on 18 November 2016 showing the 1st and 2nd Type 055 destroyers (top and left) as ell as 3x Type 052D at various stages of construction (top right)

Construction of this new class of destroyer doesn't mean the PLAN is done with the current Type 052D. The later may be half the size of Type 055, but both Dalian and Jiangnan naval shipyards are showing several under construction. This is a sign that the Type 055 will not replace the role of Type 052D: The Chinese navy will acquire and operate destroyers of both types displacing 6,000 and 12,000 tons.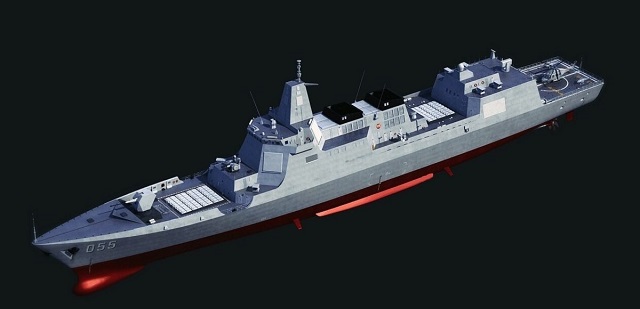 Non-official artist impression of Type 055
Harmonization of the displacement of its surface combatants (which, eventually, will be limited to four major categories: 1,000, 4,000, 6,000 and 12,000 tonnes) will allow the PLAN to steamline its operational costs and make it more flexible.

This optimization of operational costs also requires the modularization of onboard equipment, as well as the standardization of combat systems. Sources indicate that Type 052D and Type 055 seem to share a great deal of systems, such as phased array radars, vertical launch systems, main gun, CIWS, as well as possibly the hull mounted and towed sonars. The propulsion systems of both classes may share some elements as well.

To learn more: Link to Type 055 Destroyer technical datasheet.