Video: Metal Shark Introduces New Swamp Shark Propulsion System
.a
a
Naval Industry News - USA
Video: Metal Shark Introduces New Swamp Shark Propulsion System
Louisiana-based boat builder Metal Shark has partnered with Angelle Development, LLC of Breaux Bridge, Louisiana to introduce an entirely new vessel propulsion system featuring patented technology and several industry firsts.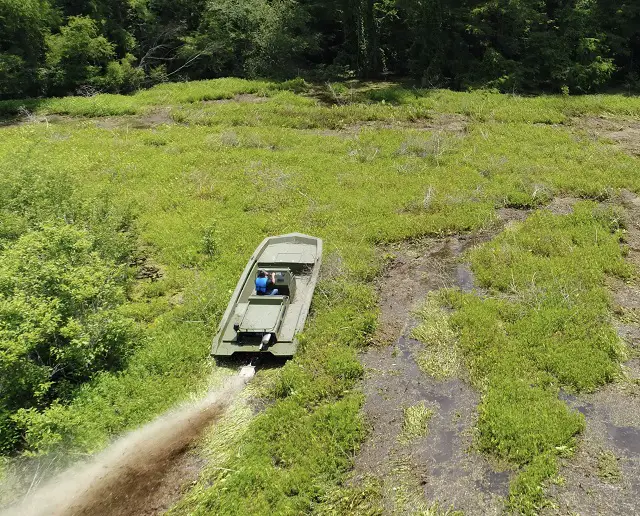 Metal Shark 21 Riverine equipped with Swamp Shark surface drive, shown here powering through vegetation in Louisiana's Atchafalaya Basin.
The "Swamp Shark Drive" is an all-terrain propulsion system specially engineered and built for operation in extreme shallow water, riverine, and mud flat environments. The highly durable system will safely and reliably propel a vessel through dense vegetation, mud, and debris-strewn waters.

"I began designing this system and building the initial prototype in 2011 with the goal of creating the ultimate 'go anywhere, do anything' all-terrain propulsion system," said inventor Clint Angelle, CEO/Owner of Angelle Development, LLC and creator of the Swamp Shark. "I studied the vulnerabilities of every other shallow water drive on the market and worked to overcome all of the challenges of operating high performance engines in these environments. The result is an incredibly reliable system that performs so well that it simply must be seen to be believed."

Originally designed to allow fishermen and hunters to access the extreme shallow backwaters of Louisiana's Atchafalaya Basin, Metal Shark executives saw potential advantages for military and commercial operators. The system has been tested and proven on Metal Shark test vessels throughout the research and design process.

"Swamp Shark has been on our radar since the beginning," explained Jimmy Gravois, Metal Shark's founder and Chairman. "When I learned what Clint was doing I immediately saw anopportunity to provide this new technology to our military customers, many of whom struggle with the challenges of shallow water operation. Every existing propulsion system used on a riverine patrol boat is a flawed choice, because they all rely on a constant flow of clean water to operate. When the intakes clog on a military patrol boat, those troops are sitting ducks, and that sort of situation can be caused by something as simple as a plastic grocery bag floating in the water. Swamp Shark addresses this vulnerability like no other system ever invented. It is the result of an amazing application ofSouth Louisiana knowledge and engineering that provides real, tangible benefits to military and government, commercial, and recreational boaters."

Video: Metal Shark Introduces Swamp Shark All-Terrain Surface Drive
The Swamp Shark propulsion system consists of several key components: A CNC-cut, machined-steel surface drive, internal/external stabilizing hydraulics, and a specialized internal cooling system, all of completely original design.

Swamp Shark drives are currently available in configurations capable of handling up to 550 propshaft horsepower and 1,250 ft.-lbs. of torque, all while operating in extreme conditions.The specially-designed outdrive with custom cavitation plate features hydraulic power trim and steering, and itsstainless steel surface-piercing propeller easily powers through mats of vegetation, bushes, or branches, while offering outstanding control on open water even at high speed.

A patented hydraulic / electric rebound system, which consists ofactuators inside and outside of the vessel, allows the drive to smoothly and automatically adapt to conditions. When the drive impacts a solid object, such as a log, stump, or other submerged hazard, it swiftly "kicks up" so that the propeller will not be impacted. The system then exerts reverse pressure to instantaneously return the drive to its normal trim position as soon as the object has been cleared.

"While a Swamp Shark-propelled boat chews its way through bushes and over logs and other debris, there's a lot going on mechanically, but as the operator you're virtually unaware of it," says Metal Shark CEO Chris Allard. "The result is a surprisingly refined, smooth ride. The system is incredibly dynamic, always working in the background, and the results are unbelievable."

Swamp Shark features a fully self-contained, patent-pending, onboard keel cooling system, with no appendages beneath the hull and no need for overboard raw water. This allows for smooth operation over underwater obstacles and allows a Swamp Shark-propelled vessel to traverse shallow, vegetation-clogged water or even loose mud with no cooling issues. The highly-efficient system cools engine oil, power steering and transmission fluid, and also boost-air intercoolers for turbo or supercharged engines, all with no reliance on outside water.

"For over six years I've been working to bring Swamp Shark to life, and it's a real honor to have the endorsement and support of Metal Shark behind me in this venture," said Angelle. "To me it's proof and validation that my system works. I look forward to building Metal Sharks powered by Swamp Shark for our military agencies and our allies."

Swamp Shark Drives are available in a range of sizes to accommodate a variety of gas and diesel-powered boats for military, commercial, and extreme recreational operators. Metal Shark is the exclusive OEM installer of Swamp Shark Drives for military and government agencies.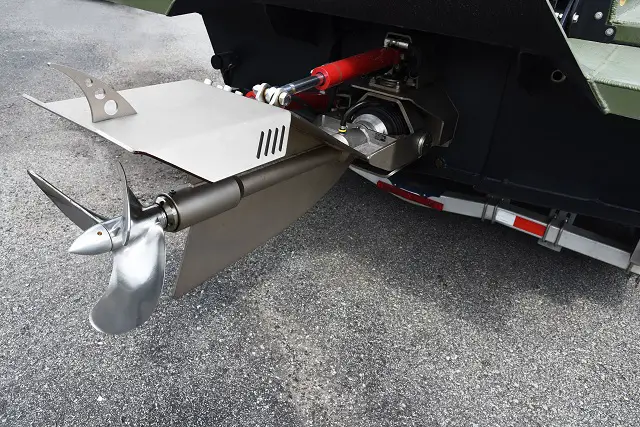 Swamp Shark all terrain surface drive